Sunday February 24 2013




3:00PM -- doors at 2PM

••• ALL AGES




$15


Benefit for Scott Jones, of Hank IV
Brickbat
www.tunecore.com/music/brickbat


post punk


members of

The Jesus Lizard


Hank IV
www.hankiv.com/


2-step / Crunk / Rock


Hot Lunch
www.myspace.com/HotLunchRules


Rock


Mitchell & Manley
www.thrilljockey.com/thrill/Mitchell-and-Manley/#.UQm7Keh8uxE


Rock


Isaiah of

Earthless

and Phil of

Trans Am


Sean Kean ---------comedian
Parker Gibbs --------MC
DJ Sasquatch Borracho

---------aka DJ Dave Pehling




---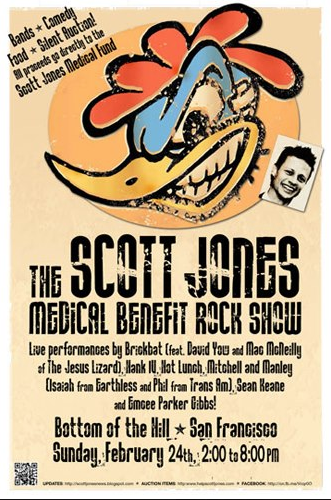 In March 2012, Scott Jones, drummer for the San Francisco rock band Hank IV, was injured in a terrible accident and suffered a Traumatic Brain Injury (TBI). His wife awoke to a loud crash and found Scott unconscious at the bottom of the stairs of their Bernal Heights home. He'd fallen backwards while climbing the steps and landed striking the back of his head on the concrete landing at the bottom of the staircase. It's suspected that his accident was related to a back injury he experienced a few days prior to his fall. And now, having at last emerged from several months in a coma and multiple surgeries, Scott is finally back living home with his wife and their three-year old son but he requires 24-hr.-a-day medical and nursing care not covered by insurance.
Scott's bandmates and friends from the local and national rock scene, including Hank IV, Hot Lunch, Phil Manley, and extra special guests Brickbat, the band for which Scott Jones drummed in the late 1980s/early1990s (now feat. David Yow and Mac McNeilly of The Jesus Lizard), are rallying together to host the Scott Jones Medical Benefit Rock Show, in conjunction with Bottom of the Hill, from which 100% of the proceeds will go to the Scott Jones Medical Fund towards Scott's ongoing medical and nursing care.

Brickbat
Brickbat is the band for which Scott Jones drummed in the late 1980s/early-mid 1990s, Brickbat is reuniting for this benefit show and will be comprised of original members James Sardone and Scott Renner plus extra special guests, vocalist David Yow and drummer Mac McNeilly, from The Jesus Lizard.
The 3-piece post punk band Brickbat was formed in Wilmington, NC in 1987 by members Scott Jones, James Sardone and Scott Renner. Part Classic Rock N' Roll-part Space Rock-part Southern Punk, the trio joined to create a kind of music much ahead of its time. Their self-titled debut album Brickbat, (on Torsion Records) was recorded in Chicago, IL by David Wm Sims, their 2nd album was recorded by Steve Albini, and they completed two national tours as supporting act for the Jesus Lizard.
Hank IV
San Francisco quintet Hank IV still has no relation whatsoever to the Hank Williams clan. Their hard-charging and visceral dual-guitar rock punk has been likened to "Crime meets Viletones meets Styrenes punk" (Z-Gun Magazine) and by WFMU's DJ Terre T as "a sick combination of Volcano Suns and Blue Cheer and Chain Gang!"
This will be the release show for the band's sixth record, a new 7" single on the Holy Mountain label.
Scott Jones was Hank IV's drummer up until the time of his accident. Instead of replacing Scott, the band has instead reconfigured itself as a 4-piece.
Hot Lunch


Hot Lunch is comprised of ex-members of Parchman Farm and Men's Club, Hot Lunch plays heavy, hard-driving punk 'n' roll influenced by Crushed Butler, Grand Funk Railroad, Black Flag, UFO, Coloured Balls, Dead Kennedys and Hawkwind. They've just released their long-awaited debut album.


Mitchell & Manley


Isaiah Mitchell is the guitarist for Earthless and Golden Void. Phil Manley, founding member of the pioneering DC-trio Trans Am, recently released his debut solo album on Chicago label, Thrill Jockey. Phil's music is more minimal and adheres to the structures of German rock of the mid 70's that has long inspired Phil, specifically the free-spirited and loose arrangements, the propulsive "motorik" pulse, and the sonic textures or "Klangfarben" (translated "sound colors"). Together they are Mitchell & Manley.



Sean Kean ---------comedian
San Francisco comedian Sean Keane co-hosts San Fancisco's's award-winning alt-comedy night, The Business, weekly at The Darkroom. A 4-time winner of the Iron Comic competition, Sean has performed at SF Punchline, SF Sketchfest, Bridgetown Comedy fest, and has opened for the likes of Tig Notaro, Jen Kirkman, Arj Barker, and Rory Scovel.
Parker Gibbs --------MC
If there is anyone in San Francisco deserving of the sobriquet "scene fixture", it's none other than Parker T. Gibbs. Noted comedy emcee (Funny Shitz) and philanthropist (Gibbmo's Xmas Craptacular fundraiser for the SF Food Bank), Parker never fails to frighten and entertain the masses with the best of stolen bits from likes of Paula Poundstone, Gilbert Godfried, and Jiminy Glick.