Thursday May 16 2013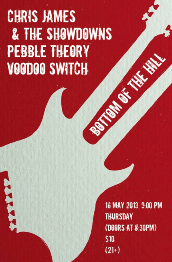 9:00PM -- doors at 8:30PM

••• 21 AND OVER




$10


Chris James & The Showdowns
chrisjames.bandcamp.com/


alternative indie rock


Pebble Theory
www.facebook.com/pages/Pebble-Theory/19613943495


indie rock


Voodoo Switch
www.voodooswitch.com/


Funk/Rock/Blues/Jazz Licks and pick-up sticks...



---
Chris James & The Showdowns


Chris James and The Showdowns are a band that has a reputation for "keeping it real" and delivering unbridled original Roots- Rock-Americana songs that will have you wondering where you might've heard em before... The band is equally comfortable performing heart felt ballads along side telecaster twang driven southern rock making their live shows energetic, emotional and hallmark memorable.





Pebble Theory


Pebble Theory is San Francisco rock goodness mixed with pop, folk, and urban spices...The band formed in 2000something when Tim (guitar) and Eros (vox/guitar) met through mutual friends of friends. Eventually the group ran into Nick (bass) and Seabrien (drums) to round out the quartet. We've put together 3 albums so far, played every venue you can imagine in San Francisco and Los Angele and ventured as far out as Chicago to share our sounds. People tell us we make our own flavor of music...we like that. They say "you can sing to it", "it makes you think" (it definitely makes us think) "it's somehow familiar, but you can't put your finger on it"...listen and we hope you enjoy...





Voodoo Switch


Voodoo Switch is a 5 piece band out of the San Francisco Bay Area tearing up the local scene and giving people a good reason to get out and shake their money makers!