Sunday
September
8 2013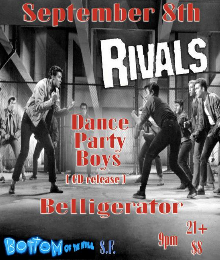 8:30PM

doors -- music at 9:00PM

•••

21 AND OVER




$

8


Rivals
www.rivalsmusic.com/


punk/rock


Dance Party Boys


CD release


www.reverbnation.com/dancepartyboys


punk rock


Belligerator
www.facebook.com/Belligerator


Rock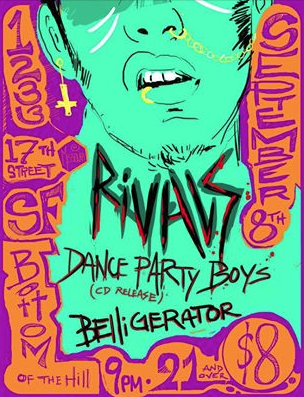 30 of these posters (to the left) will be available for free at the show
---

Rivals


- Zack, Matt, Jim and Tom




Rivals is a energetic punk/rock band from San Jose. We are known for our crazy frontman, loud guitars and high-energy live shows. We have played hundreds of shows all over the West Coast supporting legendary bands such as the Misfits, TSOL, the Dickies, Prong, and Jason Newsted (Metallica). We have released 5 albums and EPs, which you can download for free.





Dance Party Boys


Jon, Adam, Xavior, Rob


Dance Party Boys are everything the band's name suggests and much more. But don't let the name fool you, they play punk rock with a sense of danger and beauty that's been missing for far too long.
They have been been quoted to describe their sound as a "full blown musical explosion that will tingle your senses".
Members of Dance Party Boys have been known to operate certain types of sailing vessels.






Belligerator
Tomas Eduardo Kelley- bass, voices
Jonathan C. Perkins- drums, programming
James Michael Sam- guitars, vocals


Belligerator is a rock band based out of Sixth Street in San Francisco, CA. Formed out of the necessity to incessantly create, this power trio has no other choice but to inflict themselves upon innocent listeners via the median of paranoid music programmed into their DNA. Belligerator is here to simultaneously amaze, confuse and disgust you, and in the meantime remove all the loose change and cigarettes from your man purse.