Wednesday October 2 2013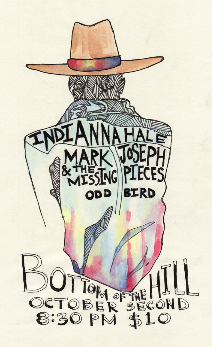 8:30PM

doors -- music at 9:00PM

•••

21 AND OVER




$

10


Indianna Hale
www.indiannahale.com


Folk / Country / Soul


Mark Joseph & The Missing Pieces
www.facebook.com/MJandTheMissingPieces


alternative soul


Odd Bird
www.facebook.com/pages/odd-bird/255531401274


acoustic baroque pop folk
---

Indianna Hale
the regulars: indianna, sleepy todd, tom, josh, matt and sean.
ghost singers and players are kasey, vera, and emily. love all these talented and amazing people.


Kathryn Jensen, aka Indianna Hale, is in The Blank Tapes.




Kathryn, or Indianna as many of us call her, captured the sound I was looking for when I moved to San Francisco. Something in her voice expressed the pain, the power and the simple beauty of life- all with just the right bit of warble and trill. I've always been impressed with how a voice so perfect and pure can resonate with so much character. I sat in awe the first time I saw her one afternoon performing at The Rev sitting in circle with several of the talented people listed above. Her languid melodies filled my head for days. I bought her cd that afternoon and I absorbed it. I memorized the lyrics. I sang along to the melodies. I imagined who the songs were about. To me Indianna became a Patsy Cline, a Jolie Holland, a Hope Sandoval, a voice held dear, a classic to return to. I'm still awed now whenever I have the pleasure to see her perform now. Indianna Hale's music made a mark on me. It was an essential building block to the musician I've become, so while I didn't know about her back then her music would have certainly fit the theme of my college radio program.

---Ash Reiter





Mark Joseph & The Missing Pieces


Mark Joseph - Nate Harris - Dave Hagan - Shawn Wyman


Mark Joseph & The Missing Pieces was born as a result of missed opportunities, and as an excuse to get back on the road and play some shows. A back catalog of songs Mark Joseph (My Revolver, The Human Condition, Rare Animals) has been writing for years has been joined with a collection of newer songs, and brought to life by The Missing Pieces (Nate Harris, Dave Hagan, Shawn Wyman).
A four piece in its current state, the group is evolving and expanding organically, touring and recording demos in preparation for a 2013 debut release.



Odd Bird
ashley allred, jef overn,
ALUMNI: dan ford, john palmer, francesco Catania, judah nagler, ephriam nagler
---from Petaluma


Combining contemporary freak-folk with a rococo songwriting sensibility, Northern California's Odd Bird create chiming, lovingly detailed and melodically inventive songs that manage to sound simultaneously sun-dappled and troubled. Ashley Allred sings in a breathy, child-like voice about everything from owls, blazing suns, fortune-tellers, penguins and puppets to suicide, war and a failing ecology. The eclectic lyrical bric-a-brac is perfectly paired to a country thrift-shop folk aesthetic featuring Allred's ringing autoharp, as well as mandolins, ukeleles, flutes and banjos beside and atop more traditional rock trappings. From its bird's nest cover and "Bedlam"'s opening plea for rethinking a world no one wants to admit has run short of imagination, through the small fairy tales of "Rheum" and "Old Owl's Tale" to the closing plea of "In a Dream", 'Smith' becomes a kind of haunted dream played out in an abandoned children's book shop. Fans of contemporaries like Neutral Milk Hotel as well as of idiosyncratic singer-songwriters such as Nick Drake, Elliott Smith and Kate Bush will find many a treasure rummaging through the strange world of Odd Bird.