Thursday October 31 2013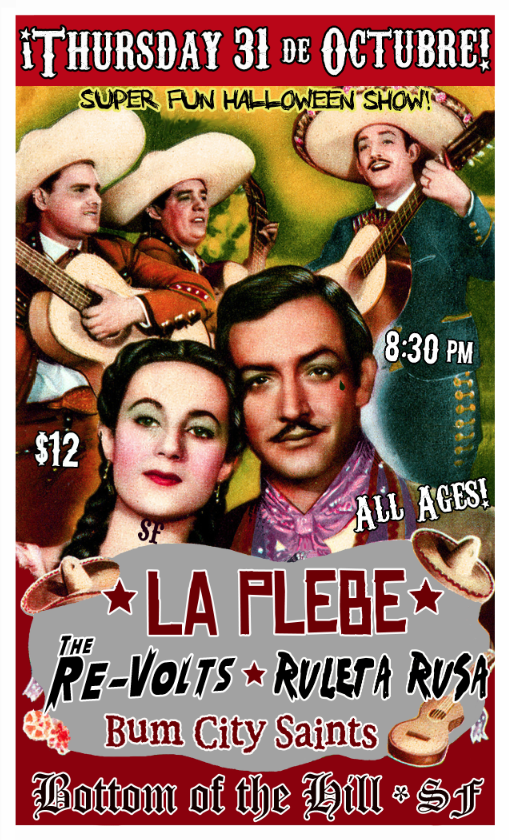 8:30PM

doors -- music at 9:00PM

••• ALL AGES




$

12




Halloween Show


La Plebe


Picture Disc release


www.laplebe.com/‎


punk rock


The Re-Volts
www.facebook.com/therevolts


punk


Ruleta Rusa
www.facebook.com/RuletaRusaSF


Trash rock


Bum City Saints
www.reverbnation.com/bumcitysaints


punk rock
---

La Plebe
Adam Paganini
Guadalupe Bravo
Alberto Cuéllar
Antonio Cuéllar
Mark T. Harris
La Plebe is a Spanish/American punk rock band from San Francisco, California. Formed in early 2001, the band has been a consistent part of various music scenes ever since, marked notably by multiple tours of Mexico, and The Balkans. Notably, in their 10 year history, La Plebe has played in 17 (non-U.S.) countries in total, but in only 6 U.S. states.
La Plebe describes their music as "bilingual punk with horns 'n vomit..." alluding to their early days where members sometimes vomited on stage due to overexertion. Their high energy music is based in early punk rock and hardcore, mostly played fast, with melodic overlays from the trumpet and trombone. They consider themselves a punk band, though often mis-categorized as ska due to the presence of the horns. Song subjects are usually politically or socially motivated, covering topics ranging from class struggle, border issues, immigration, unity, vice, oppression, and more. Pags and Lupe share lead vocal duties. Their lyrics were initially written 50/50 English to Spanish, but more recently have leaned more to Spanish.




The Re-Volts
Spike Slawson
Jack Dalrymple
Heiko Schrepel
Colin Delaney
Past members: Darius Koski, Paul Scavuzzo


The Re-Volts are an American punk band based out of San Francisco, California. They are somewhat of a San Francisco punk rock supergroup as all of the members of the band are members of other San Francisco-area punk bands. In particular, multiple different members of the Swingin' Utters have been involded. Other bands the members are or have been in include Filthy Thievin' Bastards, Me First and the Gimme Gimmes, Dead To Me, One Man Army, The Hooks, U.S. Bombs and United Blood.


Ruleta Rusa
Jose vox//Andrew guitar//David Wu bass//Josh Drums//Georgia guitar
---from SF


With their Spanish lyrics and fast & ferocious attack, San Francisco's Ruleta Rusa will remind many of legendary hardcore outfits like Los Olvidados and Sick Pleasure. But Ruleta Rusa are no revivalists. They combine that old school skate-punk vibe with a snarling '77 punk rock n' roll style to create a sound that's all their own.






Bum City Saints
Jesper - Guitar/Vocals
Travis - Bass/Vocals
Brian - Drums/Vocals


Bum City Saints is San Francisco punk. Three piece, fast paced, in your face & on a mission to keep punk rock alive and well with a sound that holds on tight to its roots while adding favors of the fog & fire from the city by the bay. Rising up from the ashes with heart & pride.