Friday September 12 2014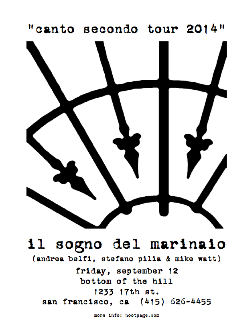 8:30PM

doors -- music at 9:30PM

•••

ALL AGES




$

15




Mike Watt

's new project:
il sogno del marinaio (with

mike watt

)
www.hootpage.com/hoot_ilsogno-d-m-labustagialla.html


post-rock




LITE




from Tokyo, Japan


lite-web.com/


instrumental math rock


Apogee Sound Club
www.facebook.com/ApogeeSoundClub


dissonant pop
---

il sogno del marinaio (with

mike watt

)
-Guitarist Stefano Pilia, drummer Andrea Belfi and bassist Watt
-The trio made up of musicians from Italy along with former Minuteman Mike Watt has lined up an extensive tour beginning on the West Coast in September.

Guitarist Stefano Pilia, drummer Andrea Belfi and bassist Watt – aka Il Sogno Del Marinaio – are supporting Canto Secondo, due out Aug. 26 on Watt's Clenchedwrench imprint.

As the title denotes, the album is the second long player from Il Sogno Del Marinaio, a band name that translates as "The Sailor's Dream." In selecting that particular moniker, Watt said having an Italian name was important because the band represented the first time he had collaborated with musicians from that country. Add to that the fact that his father was a sailor and you have Il Sogno Del Marinaio.

"My first time playing in Italy was in 1983 and I've done lots of gigs since but never like this, collaborating with her native sons," Watt said. "I am intrigued by the works of both Stefano and Andrea and am quite interested in sailing their seas of music and how they merge with mine."




LITE
Nobuyuki Takeda (Guitar)
Kozo Kusumoto (Guitar / Synthesizer)
Jun Izawa (Bass)
Akinori Yamamoto (Drums)
-from Tokyo, Japan
-LITE are a four-piece instrumental rock band formed in Japan in 2003. The band are known for their thrilling and emotional compositions, progressive, edgy riffs and complex rhythms. Their explosive live show and tireless touring in the US, Europe and Asia along with worldwide album releases have brought acclaim from all quarters. The band have released three full length albums and several EPs including "Illuminate" (2010 recorded by John McEntire) and 2012's "Past Present Future" which featured Caroline from Mice Parade and appearances at Fuji Rock Festival and SummerSonic. The band are widely regarded as one of the most exciting to emerge from Japan in the last decade.





Apogee Sound Club
WADE DRIVER - guitar, vocals, likembe, kaltronics, bugle, piano
LIZ BYRNE - bass, vocals, acoustic guitar
PHIL THEE - drums, screams


-In the wake of THE REACTION, we formed APOGEE SOUND CLUB, striving for a less "ROCK-N-ROLL", more angular and dissonant (and dissident) sound with little hints of melody and anti-authoritarian lyrics amongst the din. unlike in rock and roll, all of the instruments and vocals are mixed at the same level, no one is the "star"