Thursday December 18 2014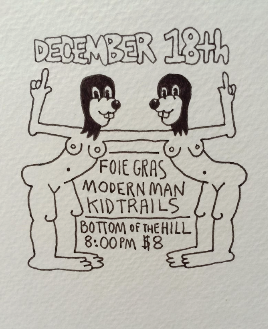 8:30PM

doors -- music at 9:00PM
•••
21 AND OVER
$
8
Foie Gras
www.facebook.com/FoieGrasForever
drone, doom, folk
Modern Man
www.facebook.com/mmkxc
psych - gaze
Kid Trails
kidtrails.bandcamp.com
pop
---
Foie Gras
Iphigenia
-from SF

-"Foie Gras is unabashedly loud and mystic, gentle and soft. Guitar driven, she lives at the intersections of secure drone and reimagined Americana, as if Brian Eno and Patsy Cline have committed themselves to an endless and passionate love affair. Wake up, this is where your daughters have wandered off to."


Modern Man
Allen Jose Brian Nikki
-from Oakland, California

-Sound of light, fleeting darkness, wave of enlightenment. Droning echoes, whirling, driving, pushing,pulling, morphing the atmosphere. Reverberation, saturation, avant-garde psychedelia. Instruments bleed through a cloud of overlapping layers until unity is acquired, lost in a sea of sound.


Kid Trails
Andy Woodward: Drums and Mixing
Patrick Jeffords: All Other Instruments
-from Oakland

-Oakland's Kid Trails is the brainchild of Oakland's Patrick Jeffords, who writes and performs all instruments for Kid Trails, with the exception of drums, which are handled by Andy Woodward. Jeffords moved to Oakland about two years to make music with some high profile friends in the local scene, but I'll let the quality of his work stand on its own for now. Kid Trails makes fuzzy, dark pop that sounds not quite like anything out there today, although it did make me think of that great Edwyn Collins track from 20(!) years ago.