Friday March 13 2015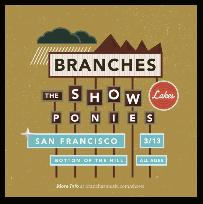 8:30PM

doors -- music at 9:30PM
•••
ALL AGES
$10
Branches
branchesmusic.com/
folk-rock-family-fun
The Show Ponies
www.theshowponies.com/
indie folk, neo bluegrass. . . something like that
Lakes
www.lakesband.com/
Rock
-------previous bill canceled: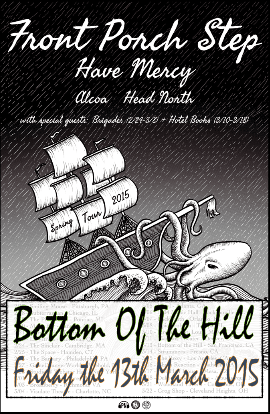 7:00PM

doors -- music at 7:30PM
•••
ALL AGES
$
12
in advance

/ $15

at the door

Front Porch Step
Indie Acoustic / Emo / Punk
Have Mercy
Alternative/Indie
Alcoa
alternative blues folk punk alt-country
Hotel Books
ambient emo indie poetry post hardcore spoken word
Head North
Pop-Punk
---

Branches
Members: : Tyler Madsen, Natalie Nicoles, Jacob Montague, Tyler Goerzen, Mitchell Dong, Michael Springs, and whoever else we manage to pick up along the way.
- from Los Angeles, CA

The lady and gentlemen of Branches are a fun-folk-force to be reckoned with. Birthed in a living room in the suburbs of Los Angeles in 2010, Branches spent their first year together making friends, playing shows, and writing and recording the songs for their EPs ("O, Light!", "Cabin", "Songs For Christmas") and their full-length ("Thou Art The Dream", released 2/12.)

Through both singalong celebration and solitary longing, their recordings provide the full spectrum of what this band is capable of: Indie-folk-rock-family-fun in a style that has been compared to the likes of Death Cab For Cutie, The Lumineers, Mumford and Sons, and The Head and The Heart. Pouring as much creativity and imagination into every live experience as they have into their studio recordings, they have been honored to sing in such notable California venues like the Hotel Cafe (Hollywood), The Independent (San Francisco), & the Glass House (Pomona), as well as touring nationally in the college circuit and enjoying their first venture into the crazy world of SXSW. Along the way, Branches has been honored to share the stage with such acts as MUTEMATH, Ivan and Alyosha, Twin Forks, Milo Greene, Charlie Peacock, Tyrone Wells, Family of The Year, and so many other wonderful friends and musicians.






The Show Ponies


Members: Clayton Chaney, Andi Carder, Jason Harris, Kevin Brown, & Philip Glen
- from Los Angeles, CA

Near the end of Huckleberry Finnž Huck announces, "But I reckon I got to light out for the Territory ahead of the rest, because Aunt Sally she's going to adopt me and sivilize me, and I can't stand it. I been there before." Through Huck's longing for the Territory ahead, Mark Twain transformed the ending of a story into an invitation that has come to define the American imagination. In his words we come to the conclusion of a story as one comes to the top of a mountain—to behold where we've been, and where we've yet to go.

The Show Ponies offer such vistas of the imagination on their newest EP, Run for Your Life (2014). Channeling the momentum of a few momentous years, founding ponies Andi Carder (lead vocals, banjo) and Clayton Chaney (lead vocals, bass) weave story and song with the same charm, pathos, and boldness that brought them from Texas and Arkansas to California where the Show Ponies were founded in 2011. Like so many iconic American voices over the generations, Carder grew up singing in church and performing in musical theater—musical heritage often apparent in performing what she likes to call "folk sassgrass." Chaney's musical upbringing compliments Carder's sensibilities in drawing on the deep wells of country and folk. The themes of his songwriting echo his penchant for wanderlust: "Being on the road is the most exciting thing for me. I love waking up in a different place every morning."



Lakes
Members: Jeremy Wells | Jacob Wick | Matthew Covington | Seth Roberts | Teddy Ramirez
- from San Luis Obispo, CA

Northern California-based Lakes is lead by vocalist/guitarist Seth Alan Roberts, formerly of Christian indie rock band Watashi Wa, who released a record on Tooth & Nail before breaking up in summer 2004. Roberts had formed a new band called Eager Seas and put out a record through Tooth & Nail, but it was released under the Watashi Wa moniker in early 2006. After parting ways with Tooth & Nail, the new lineup of Roberts, guitarist Jason Massey, and bassist Roger Tompkins signed to The Militia Group and changed the band's name to Lakes. Their debut EP, Photographs, was issued in September 2006, though with Erik Brunner on bass and Jonathan Russo manning drums; the album featured guest vocals by Mike Herrera of MxPx and Aaron Marsh of Copeland. It would be another four years before the band issued their debut album The Agreement in 2010. Working independently on their own Armacost Records, Lakes continued to take their time, carefully writing and recording thier follow up Fire Ahead which would appear in the summer of 2014.