Friday March 20 2015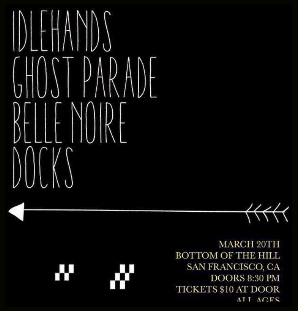 8:30PM

doors -- music at 9:30PM
•••
ALL AGES
$
10
Ghost Parade
www.facebook.com/GhostParade
Progressive Rock
Idlehands
www.facebook.com/IdlehandsOfficial
Alternative Rock
Belle Noire
www.facebook.com/BelleNoireBand
Experimental/Indie/Ambient/Rock
Docks
www.facebook.com/docksband
Indie/Alternative
---



Ghost Parade


Justin Bonifacio- Vocals & Guitar, George Woods- Guitar & Vocals, Ben Everett- Bass
from San Francisco, CA

San Francisco alternative rock quartet, Ghost Parade, is all business. That is not to say that the guys do not know how to let loose and, as they claim, "go stupid until our faces fall off." It is just that when it comes to their craft, Ghost Parade take what they do with the upmost gravity. Their brand of melodic, emotive alt-rock hints at an emo-fied version of the Deftones with some killer licks mixed in. Yeah, Ghost Parade is dense in all the right places.






Idlehands


Michael Brekka / Seancarlo Ohlin / Johnny O'Hagan / Phil Di Raffaele / Isaac White
from San Diego, CA



With an album produced by post-hardcore juggernaut producer Kris Crummett in the can, San Diego's Idlehands—who formed barely a year ago—are out to "resurrect the dying trade" of being in a band, says vocalist Johnny O'Hagan. "We have been categorized under the sound of progressive rock, but are not limited to any [one] genre." Indeed, Idlehands' demos show great promise, from O'Hagan's soulful melodies to the spacey guitar leads threading through each song. "Absolute creativity isn't as common as musicians attempt to say it is," O'Hagan says. "We strive to play the best music possible."






Belle Noire
Joey Lancaster:Vocals,Guitar, Sergio Herrera: Guitar, Percussion, Mike Grijalva: Guitar, Sal Contreras: Drums
Dan Sek: Bass,Vocals
from San Jose, CA

Belle Noire is a Post Rock/Alternative/Indie band from San Jose, Ca. Formed in 2012. The band consists of: Joey Lancaster- Guitar/Vocals, Dan Sek-Bass/Vocals, Sal Contreras- Drums, Sergio Herrera- Guitar/Percussion, and Mike Grijalva: Guitar. The band wrote and recorded the self- titled EP in RHL studios in Fremont, CA with longtime friend and colleague Stephen Hawkins, in which the first 6 songs written were recorded, and pressed to CD. The band strives to perform live with passion, and energy, to make you feel what the songs mean. Pulling influence from many different areas, Like Thrice, Deftones, Circa Survive, and Moving Mountains.
New LP being recorded with Dryw Owens, due out early 2015






Docks
Ranier Tinkelenberg ~ Guitar/Vocals, Jamie Dequine ~ Guitar/Vocals, Ryan Abusaidi ~ Bass, Joe Head ~ Drums
from San Jose, CA



Happy-go-lucky indie whatever bringing slaps and patty wacks to a show near you. Please refrain from asking anyone but Ranier what a patty wack is.