Wednesday March 25 2015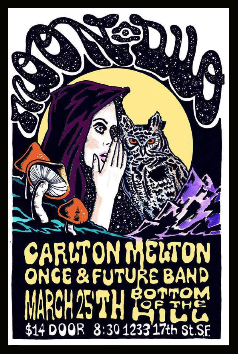 8:30PM

doors -- music at 9:00PM
•••
ALL AGES
$
12
in advance

/ $14

at the door
Moon Duo
moonduo.org/
Repeat-o Rock
Once And Future Band
www.facebook.com/OnceAndFutureBand
Pop
Carlton Melton
www.carltonmeltonmusic.com/
psychedelic free-rock jam
---



Moon Duo


Members: Sanae Yamada Ripley Johnson
- from San Francisco, CA

A project of Wooden Shjips' Erik "Ripley" Johnson and Sanae Yamada, San Francisco's Moon Duo are a psychedelic Krautrock pair with chilly electronic underpinnings and drones inspired by Spacemen 3, Silver Apples, and Suicide. The group formed in 2009 and began issuing releases in short order, including the Love on the Sea 12" on Sick Thirst, which they followed with the Killing Time EP on Sacred Bones. Moon Duo made the jump to Woodsist for 2010's full-length Escape, which offered the most expansive and melodic take on their trippy sounds yet.

After touring nearly incessantly following that release, Moon Duo moved their operation to the Souterrain Transmissions imprint in Berlin for Mazes later in the year, recording the set at home in San Francisco and mixing it in Germany. The album, released in the spring of 2011, followed widely acclaimed performances at SXSW; the band's sound on that record focused more on tightly written (and brightly produced) songs with fixed motorik rhythms (there is no drummer). The set also got the remix treatment later in the year with participation from Psychic Ills, Purling Hiss, and Sonic Boom, to name a few. The band's next full-length, Circles, appeared in the fall of 2012, and was accompanied by a remix album (Circles Remixed) the following year with the album's tracks reworked by artists like Eric Copeland and Umberto. The band's release of stopgap material continued in 2014 with the live album Live in Ravenna.






Once And Future Band


-Members: Joel Robinow - Keyboards, Guitar, Vocals. Raj Ojha - Drums, Percussion. Eli Eckert - Bass, Guitar, Vocals. Spiritual, musical guidance and additional shredding provided by... Danny James Isaiah Mitchell Phil Manley Joey Ryken Hoyt Charles Danny Levin


- As Once and Future Band (named by Danny James Etc) with the purpose of performing and recording Joel's massive library of songs before they are lost to the ages after the Great Hard Drive Crash of '12.






Carlton Melton
Members: Andy Duvall, Clint Golden, Brian McDougall, Rich Millman, John Steuernagel
- from Northern California

The band CARLTON MELTON formed along the Mendocino County coastline in Northern California on the weekend of July 17th, 2008. The idea to play live, loud, improvised, experimental, instrumental, psychedelic music in a geodesic dome had been discussed for many years prior to this date. The opportunity came to fruition after the dome was completely rebuilt and the acoustic sounds inside were fully realized.

The music is recorded live inside the dome to analog and digital sources using omni-directional microphones. All music is improvised in the sense that no one really knows who or what is going to be played at any given time. There are no rehearsals, practices, demonstration tapes, second takes... what you hear is the first take... " Hit It And Quit It " as Funkadelic would prescribe. There are no studios. We record in Brian's house and Brian happens to live in a geodesic dome.

It is understood this music is not for everyone. If you prefer top-notch, modern day production and crafty songwriting you may want to stop here. If you prefer old SST label cassette tapes or an early Spaceman 3 cassette you recently found wedged in the back seat of your car you may dig some of this... or perhaps you like to listen and gaze at an old David Crosby LP now and then. We dug it enough to strike up our own label Mid-To-Late Records so we could share our favorite jams on vinyl.

Stay tuned... Long Live Dome Rock...