Monday March 30 2015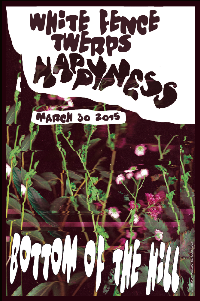 8:30PM

doors -- music at 9:00PM

•••

ALL AGES




$

15

in advance

/ $17

at the door
White Fence
www.facebook.com/pages/White-Fence/109125289153214


Psychedelic Pop Rock, Garage Rock, Lo-Fi Indie


Twerps
www.facebook.com/Twerpsmusic?sk=wall


Janky Pop


Happyness
www.facebook.com/Happynessmusic


Rock




---

White Fence
Tim Presley
-from SF/LA
-Tim Presley has been performing as White Fence for a few years now, building on a diverse resume that borders on the impossible: He played in hardcore punk band The Nerve Agents in the late '90s, leads the space-rock group Darker My Love, was a member of the garage outfit Strange Boys, and even found time to join The Fall. He's also cut six albums as White Fence since 2010 — including Hair, a well-received collaboration with the equally busy Ty Segall.

Presley uses White Fence as a proving ground for ideas that, as of For the Recently Found Innocent, have steered toward the gentle pomp of late-'60s psychedelic pop, rock and folk. He arrives there with many of that era's trappings: an affected accent (more English than British, if that makes sense), vintage gear, and songs that stir up the magic of the time, though with economical production values that eschew heavy studio treatments. This isn't The White Album; there's no Mellotron orchestration or backwards drumming here, just tastefully arranged, skillfully played, guitar-oriented throwbacks to a more hopeful time, full-bodied and dripping with paisleys.

Within those confines, Presley cuts both ways against the artifice of a resurrected sound, by writing to the canon from which he performs and bending it to his will, often in the same song. He seems equally comfortable channeling Donovan ("Hard Water," "Sandra [When the Earth Dies]") and more rambunctious influences; "Like That" charges along like a long-lost track by madcap Birmingham outfit The Move, which would later morph into Electric Light Orchestra. As a whole, For the Recently Found Innocent sounds like a loving tribute to a past that many of us never experienced firsthand — and, in the process, it's sturdy enough to survive the choppy waters of today.




Twerps
Marty Frawley - Guitar/Vocals
Jules McFarlane - Guitar/Vocals
Rick Milovanovic - Bass/Vocals
Alex Macfarlane - Drums/Vocals
-from Melbourne, Australia
-Cheeky, charming and touchingly direct, Melbourne foursome Twerps are international pop champions. Formed in late 2008 around guitarists Martin Frawley and Julia MacFarlane, they were already supporting the likes of Deerhunter, the Bats, the Black Lips, Yo La Tengo and Thee Oh Sees within a few months of their first gig.
Excellent melodies, simple guitar lines, and simple lyrics that imply something urgent or devastating. As they've said in interviews, they've done some growing up for this album, and you can hear it, mostly in the tone of their instruments. They make those bold, doe-eyed statements, then offset them by a tinge of melancholy in their guitars, implying something more self-aware and devastating.





Happyness
Ash Cooper
Benji Compston
Jonny Allan
-from London, England.


-Happiness is a great feeling; Happyness is a great band. The South London trio specializes in lush-yet-breezy indie rock that conjures all sorts of wistful feelings then takes the piss out of them with wry puns and punchlines. Think of it as Sparklehorse's mournful dream-pop pocket symphonies infused with Pavement's winking ironic sensibility, or Yo La Tengo if their public sense of humor seeped into their records more often. It's gorgeous, gregarious stuff, music that immediately ingratiates itself but continues to reveal new layers of beauty with time.


-For fans of Sparklehorse, Pavement, MGMT and Yo La Tengo. Happyness release their self-produced debut album - 'Weird Little Birthday'.
The album follows their critically acclaimed eponymous debut EP released at the beginning of this year. Drawing comparisons with the great college slacker rock bands, 'Weird Little Birthday' puts Happyness at the forefront of, wait for it, 'jangle-gaze' while displaying a more complex melancholic and introspective nature.
The youthful exuberance is still there, but the album expands on that to deal with the morning after as well as the night before.
Mixed by Adam Lasus (Yo La Tengo, Daniel Johnston) and featuring Ed Harcourt's vocals on 'Pumpkin Noir', "Weird Little Birthday' could be this year's underground success.