Wednesday April 8 2015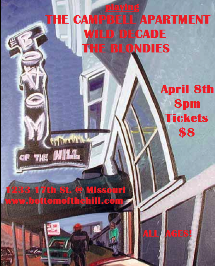 8:00PM

doors -- music at 8:30PM

•••

ALL AGES




$

8


The Campbell Apartment
thecampbellapartment.bandcamp.com


Rock


Wild Decade
www.facebook.com/wilddecade


Rock, Post-punk, Pop


The Blondies
www.theblondiesband.com


Indie Rock



---

The Campbell Apartment
-from SF


-The Campbell Apartment, named after a bar hidden inside New York's Grand Central Station, is the brain-child of Ari Vais.






Wild Decade


-New York City/San Francisco post-punk band (formerly known as Bad Bibles)


Wild Decade are a melodic rock band led by songwriters Dan Leech and Phil Maves. Wild Decade are unique in that there are two live versions of the group -- Dan leads the rock-oriented incarnation of the band in the SF Bay Area, while Phil handles shows in NYC with a more stripped-down approach.

Wild Decade's latest EP, "Two Places," shows the band moving toward warmer and more personal songwriting, while still retaining the spiky weirdness and dark humor of their debut LP, "Conductor." Wild Decade combine varied rock influences from The National, Modest Mouse, The Smiths, and Pixies.





The Blondies


-


-The Blondies are Berkeley and Oakland California natives. They have been playing music together for eight years.
One of their biggest achievements, thus far, is receiving the Gibson Guitars Artist award. They were the youngest band to ever get this honor. Another big milestone for The Blondies was being featured in BAM magazine.

Their third album, Sweet Nothings, blends jazz, rock and pop sounds, while tackling universal and personal stories of joy, love, tragedy and inspiration. In its simplest form, the album is about young love and the obstacles of inner city life. In its most complex form, Sweet Nothings is about the freedom to have dreams and to fight for them.