Friday April 24 2015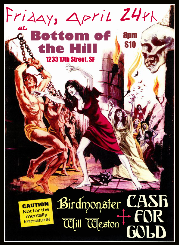 8:30PM

doors -- music at 9:30PM

•••

21 AND OVER




$

10


Birdmonster
www.birdmonstermusic.com/


Rock 'n' Roll


Miss Lightning
www.facebook.com/weareMissLightning


Throw down soul punch

------

Will Weston

is off the bill
Cash For Gold
www.facebook.com/wearecashforgold


dream pop - funeral pop



---

Birdmonster
Peter Arcuni, David Klein, Justin Tenuto, Zach Winter
from San Francisco, CA

Birdmonster was born over terrifying diner food, when singer Peter Arcuni ordered a regrettable meal from bassist Justin Tenuto, who, in retrospect, should have apologized for the quality of the hamburger he was serving. The two agreed to play music later in the week, hoping the other wouldn't want to play Phish cover after Phish cover. They hit it off and Justin invited his old roommates David Klein (guitar) and Zach Winter (drums) to join in an impromptu session. One thing led to another and before they realized it, the foursome had a practice space, then some shows, then an eponymous EP they recorded at John Vanderslice's Tiny Telephone studio, then were on tour in an $800 van that didn't like going up hills.

They've since released two full lengths--- "No Midnight" and "From the Mountain to the Sea" ---as well as 2009's "Blood Memory" EP. "No Midnight" featured Bradley Cook (Foo Fighters, Old 97's) in the production seat, while the later two were produced by Tom Schick (Wilco, M. Ward) and released on New York's Fader Label. Birdmonster has done extensive touring across America and Canada, when Canada feels like letting them into the country, and have played on bills with The National, The White Stripes, Art Brut, Ra Ra Riot, and Cold War Kids to name a few.

Birdmonster is based in San Francisco and is currently releasing a series of singles they self-produced and self-recorded under the moniker "Birdmonster Singles Project."




Miss Lightning
Cam - guitar/vocals/synth, Dominique - vocals/keys, Renato - guitar/vocals, Pat - bass, Rob - drums
from San Francisco, CA

Grit meets velvet, honey, silk, and soul in our vision of what the future holds for rock and roll. Like death ray starships in ancient Egypt






Cash For Gold
George ~ drums, Stella ~ bass, Jordan ~ guitar/ crooner
from San Francisco, CA

Formed from the ashes of beloved Bay Area rock bands, this unlikely trio found an instant rapport with one another and began writing music they had long been inspired by, such as bands like The Zombies and The Shangri-Las, with beautiful harmonies and melodies melding together to a dark, hypnotic vibe comparable to Beach House or The Raveonettes. It is apparent from their dynamic set of haunting ballads and dark rocking pop songs that their location deep within the paunch of the SF Tenderloin plays an important role in creating the perfect environment for these songs to be crafted. You can hear that the dark underbelly and grit from these streets have seeped into their music, lovingly carrying the listener through an array of restless, catchy melodies. Meet your new favorite band from San Francisco.