Saturday May 9 2015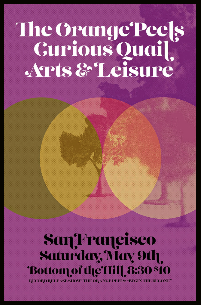 8:30PM

doors -- music at 9:00PM

•••

21 AND OVER




$

10


The Orange Peels
www.theorangepeels.com/


(Record release show)




Indie rock, pop rock, alternative country


Curious Quail
www.facebook.com/CuriousQuail


Indie Rock / Alternative / Orchestral Rock


Arts & Leisure
www.facebook.com/arts.leisure.music


California Goth Pop



---



The Orange Peels


Allen Clapp, Jill Pries, John Moremen, Gabriel Coan
from Boulder Creek, CA

The Orange Peels: Begin the Begone

Even as the whiplash, bruises, and body aches began to fade, it was like they could feel their old lives beginning to disappear. Flash back to late November, 2013. On the way to the last show of their Sun Moon tour, founding Orange Peels members Allen Clapp and Jill Pries were in a life-changing accident. Stopped in traffic on Highway 880, Allen had just asked Jill for a piece of gum when they were hit from behind at 60 mph by a drunk driver. Somehow, the two walked away, were given the OK by the EMTs, and even went on to play the show (their van wasn't so lucky). But they weren't the same.
New inspiration wasn't hard to find. Many of the songs loosely chronicle the band's journey over the course of a tumultuous year, so it's not surprising that themes of loss, discovery, and change dominate the lyrics. Shadows of the experience lurk on the back-to-back tracks "Fleeing the Scene" and "New Moon," while a more anthemic telling of the tale is condensed into the verses of "9″ — a song about the mountain highway that snakes past the band's new headquarters. Maybe it was the shock of the accident that gave lead guitarist John Moremen and drummer Gabriel Coan the opportunity to carry the band forward in new ways. The collection showcases Moremen's on-the-spot song arrangement chops and marks Coan's first appearance as co-producer on a Peels record. It's also the first time the band has released a new record in less than 4 years. Still, some things remain unchanged. The band's keen attention to mood and melody is thankfully and marvelously intact. So is the collaborative spirit that launched their 2013 album, Sun Moon. "Begin the Begone" finds the band taking new risks, saying to hell with the consequences, and making the most immediate and adventurous music of its career. -






Curious Quail
Mike Shirley-Donnelly - Vocals / Guitar / Chiptunes | Joey Guthrie - Drums / Glockenspiel / Keys | Dr. Alan Chen - Violin / Keys | Erin Keely - Bass / Vocals | Abe Myers - Lead Guitar / Keys
from San Jose, CA

Started in 2008 by singer/songwriter Mike Shirley Donnelly, Curious Quail began as a one- man DIY project mixing chiptunes, guitar driven rock and orchestral arrangements. Influenced heavily by the fuzzy alternative guitar sound of the 90's, and both retro and modern video game soundtracks, 2009's The GLOW Ep painted a picture of one man, his guitar and his technology.

Morphing into a 5-piece band over the course of the second release (2012's .:INSTANT GRATIFICATION:.) incorporating violin, female harmony vocals and orchestral percussion, Curious Quail's music has been described as a cross between The Smashing Pumpkins, The Postal Service and Modest Mouse. They have performed at LIVE 105's BFD, C2SV, Left Coast Live, subZERO Festival, 8BitLA's FREQUENCY and MAGFest's ROCKAGE alongside bands such as Of Monsters and Men, Silversun Pickups, 30 Seconds to Mars, OK Go, Neon Trees, Night Riots, Rin Tin Tiger, Tumbleweed Wanderers and Finish Ticket, as well as chiptune acts Slime Girls and MegaRan and are a mainstay of the San Francisco Sunday Streets program.

2014's AFTER THE LIGHTS FAILED (Produced by Jon Devoto of The Matches) was funded via a massively successful KickStarter campaign, listed as a Kickstarter "Staff Pick" for the duration of the project, the band's $6,000 goal was met in the first week and closed out over $10,000. It was released to critical acclaim, reaching NanoBot Rock's #2 spot in their "Top 10 Albums of 2014". Their music has received radio airplay on LIVE105, KSJS, KZSC, KFSR, WUPI and has been profiled by NPR Music, CMJ, The Bay Bridged and more.-






Arts & Leisure
Gerri White - vocals, guitar, Cory Vick - guitar, vocals, Tim White - bass, vocals, Ed Carroll - drums
from Sacramento, CA



Arts & Leisure combines elements of '60s pop, '70s power pop, and '80s new wave, all of which helps to craft the group's own brand of buzzy, hook-laden dream-pop. Debut album "Choose Your Adventure" and new single "Weekend/Over You" both available Test Pattern Records!