Thursday May 28 2015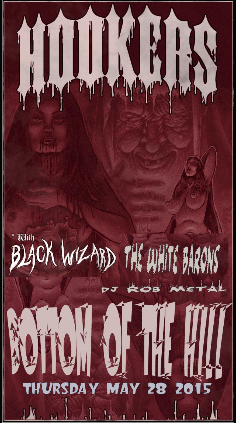 8:30PM

doors -- music at 9:00PM
•••
21 AND OVER
$
10
in advance

/ $12

at the door

The Hookers
www.facebook.com/hookersvalhalla


Heavy Metal Thunder


Black Wizard
www.facebook.com/blackwizardband


Heavy Metal


The White Barons
www.facebook.com/pages/The-White-Barons/233932609969939


Southern fried rock


DJ Rob Metal
www.cvltnation.com/death-by-vinyl-a-visit-with-dj-rob-metal/


DJ: Metal
---

The Hookers

The Rock n' Roll Outlaw - Vocals Juan Badmutha - Bass, Alex Mccandless - Guitar, Russia - Drums
from Kentucky-

"During the Civil War prostitutes were known as 'Hookers' after an obliging Union General of the same name who supplied his men with the passion to keep fighting the good fight. The same spirit lives on in the modern day HOOKERS who have been schooling audiences in hardcore punk technique for so long sometimes even they forget how great they truly are. And like a whore gone to seed, the mighty HOOKERS just keep on getting more depraved, more insane and more brutal with their two chord assault. Who says the day of miracles is past? BLAG DAHLIA - ROCK LEGEND/THE DWARVES"
-




Black Wizard
Eug, Adam, Evan, Stokes
from Vancouver

'Black Wizard have really done it with this album. Their performance is impressive, the sound is massive, the vocals are colossal and the guitar leads are seriously, seriously great. If you are a doom metal fan then Young Wisdom will put you in an ecstatic state of mind." - CVLT Nation

"Nothing short of excellent, Young Wisdom is by far one of the best albums I have heard yet in 2013, boasting an impressive collection of stoner rock that will quickly find its place amongst notable acts such as The Sword and Priestess." - Ride with The Devil

"The only band in town that adds inches to your dick." - Gord






The White Barons
from San Francisco, CA
-


Ah, the White Barons. The fuckin' White Barons. They were a marketing machine of dubious T-shirt messages — rolled bills, razor blades, powder piles, and crossed keys — before they played their first show, and if I didn't know von Slut from Thee Merry Widows, I might've been reticent to check them out: bands who have their swag down pat before playing out usually blow their nut before anything exciting happens.

Not so with the WBs. With von Slut on vocals, Baron Johnny One Eye and Nate von Wahnsinn from the Whiskey Dick Darryls on guitar and bass, respectively, and Baron Adam von Keys, formerly of All Bets Off, on drums, the group was pretty much a lock to achieve rock 'n' roll juggernaut status before playing a note.

-




DJ Rob Metal
-
Classic Rock is where it's at. Do you long for the days when rock was kick ass? When you could turn on the radio (KMAC/KISS) and enjoy good music all day long.Well those dasre gone but I can bring them back to life!