Saturday June 6 2015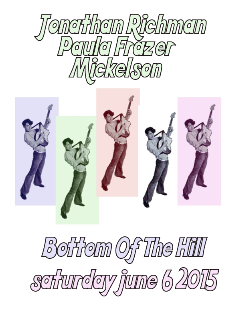 8:30PM

doors -- music at 9:00PM

•••

ALL AGES




$

15


Jonathan Richman


Live! On Stage:

Jonathan Richman

featuring Tommy Larkins on the drums!


en.wikipedia.org/wiki/Jonathan_Richman


Rock, folk, new wave, proto-punk


Paula Frazer
www.facebook.com/paulafrazerandtarnation


Alt Country, folk, blues, punk, Gothic rock


Mickelson
www.mickelsonmusic.com


Alternative Folk



---



Jonathan Richman


Jonathan Richman
from Boston, MA
-Jonathan Michael Richman is an American singer, songwriter and guitarist. In 1970 he founded the Modern Lovers, an influential proto-punk band. Since the mid-1970s, Richman has worked either solo or with low-key, generally acoustic, backing. He is known for his wide-eyed,unaffected and childlike outlook, and music that, while rooted in rock and roll, often draws on influences from around the world.




Paula Frazer
Paula Frazer
from San Francisco, CA
-There aren't many American singers possessed of a fine country twang who are actually from the Deep South, but such is the case for the talented Paula Frazer, who far from being any sort of clone also brings the same wide range of influences to bear on her own work, from punk and blues to cabaret and gospel, for her own striking musical visions. Raised in both Georgia and Arkansas, her musical influences readily came from both parents. She sang in the church choir, where her father was a preacher, while her mother taught her piano and introduced her to music from George Gershwin and Billie Holiday to the contemporary music of the 1960s and 1970s. After various youthful experiences in local bands, Frazer moved in 1981 to San Francisco to seek her wider fortune.




Mickelson
Scott Mickelson
from San Francisco, CA
-
Through a career that spanned five full-length releases with his band Fat Opie, a
struggle with a long-term illness and a career as a fine artist, Scott
Mickelson has persevered. Now, with his debut solo release Mickelson
"Flickering", he delivers his most critically acclaimed work. Mickelson is
singing the stories of those living their lives in contemporary America, as
fragmented as it is. Appearances include NPR Radio, Huffington Post, and CBS
Morning Show... When not touring, he also produces artists from his Bay Area
studio.