Tuesday
September 1
2015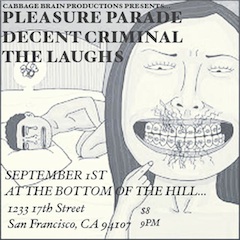 8:30PM

doors -- music at 9:00PM

•••

21 AND OVER




$

8


Pleasure Parade
www.facebook.com/pages/Pleasure-Parade/512237838899647


punk rock


Decent Criminal
www.facebook.com/DecentCriminal08


alternative


The Laughs
thelaughs.biz/


avant garage punk



---

Pleasure Parade
Roxy Roller * Lead Vocals ... /// Steve Ricablanca * Guitar ///
Chris Alberf * Bass /// Will Cisc * Drums
- from San Francisco, CA
-Roxy Roller is singing in Pleasure Parade, not playing bass. That band was put together by Steve Ricablanca, VKTMS bass player, only he is playing guitar this time-






Decent Criminal


Hunter Martinez, Tristan Martinez, Alexander Alcantera Alcantra-Kouninos, Brian Gellman
-from Santa Rosa, CA
-With a high energy blend of punk, surf and power-pop, Northern CA's, DECENT CRIMINAL, offer catchy, upbeat songs that mercilessly collide with abrasive and often melancholy undertones, to bring forth a style that's playfully compatible while still feeling inadvertently raw. Having done numerous self-sufficient tours covering most of the U.S. since 2010, Decent Criminal has shown to be increasingly active despite internal conflicts that resulted in an involuntary hiatus in 2014. When co-founding drummer/songwriter Ben Wright left the band, sole remaining founding member, Hunter Martinez, switched from the role of singer/guitarist to drummer to allow the band to continue. For the rest of 2014, brothers Hunter and Tristan Martinez (vocals/guitar) collaboratively wrote all new material for the band. With contributions from bassist/vocalist Alex Kouninos, and newly added guitarist/vocalist Brian Gellman, Decent Criminal's sound changed drastically into what it is today. With a new line-up, Decent Criminal jumped into 2015 by touring and releasing a split 7 inch with Oakland's 'Screaming Mimi's'. Currently, Decent Criminal is recording what will become their next full-length album.




The Laughs
-from San Francisco, CA


-The Laughs are a loud, sloppy San Francisco trio playing your favorite avant garage punk tunes. Explore the sonic possibilities of minimalist post-velvety tropicália drone outlaw country new wave rock. You will laugh. You will cry. Who knows que pasa?