Saturday
December 5
2015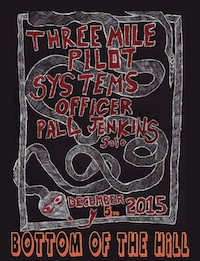 8:30PM

doors -- music at 9:30PM

•••

ALL AGES




$

15

in advance

/ $20

at the door


Three Mile Pilot
www.facebook.com/3milepilot


indie rock


Systems Officer
www.facebook.com/pages/SO/365747477033


indie melodic prog


Pall Jenkins
www.palljenkins.com/


indie rock



---
Three Mile Pilot
Pall Jenkins, Armistead B. Smith IV, Tom Zinser Live: Pall Jenkins, ABSIV, Tom Zinser, Kenseth Thibideau, Brad Lee, Visuals: Matt Lorenz -from San Diego, CA

-Founded in the early 90s, Three Mile Pilot are without a doubt one of the most respected and influential groups to ever call San Diego, California their home. Following a trio of groundbreaking albums, the group declared a self-imposed hiatus at the height of their popularity, with Armistead Burwell Smith IV forming Pinback with Rob Crow, and Pall Jenkins pursuing The Black Heart Procession with 3MP co-conspirator Tobias Nathaniel. After a dozen years, Three Mile Pilot triumphantly returns with a renewed enthusiasm and a creative energy that feels as if the band have been aging in reverse, if at all.
Systems Officer
Armistead Burwell Smith IV (aka Zach Smith), Sir Ely Tugs Moyal III, Jason Stewy Hoops II, Otis P. Snuffleupagus
-from San Diego, CA

-If ever you need evidence to combat the slacker Southern California stereotype, look no further than the few folks that make up the lion's share of San Diego's impressively diverse and highly successful music scene. Collectively Rob Crow, Pall Jenkins, Armistead Burwell Smith IV maintain as many as ten (count 'em) projects simultaneously. More impressive is the overall quality and longevity of most of these projects. Systems Officer is the solo guise of Armistead Burwell Smith IV, the prolific multi-instrumentalist, songwriter and founding member of Pinback and Three Mile Pilot. Five years in the making, Underslept is Smith's debut solo album, an uncompromised, fully realized collection of driving, deceptively complex pop songs.


Pall Jenkins
Pall Jenkins
-from Chula Vista, CA

former member of Black Heart Procession, Three Mile Pilot, Mister Tube and the Flying Objects