Wednesday
December 9
2015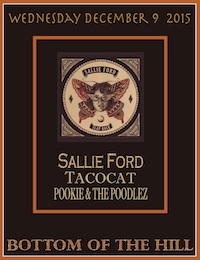 8:30PM

doors -- music at 9:00PM

•••

21 AND OVER




$

12

in advance

/ $14

at the door


Sallie Ford
billions.com/sallieford


Rock n Roll


Tacocat
www.hardlyart.com/tacocat.html


Post post punk pop pop


Pookie & The Poodlez
www.facebook.com/PookieandThePoodlez


pop punk



---
Sallie Ford
Sallie Ford (vox & geetar), Cristina Cano (keys), Anita Lee Elliot(bass) & Amanda Spring(drums) !
-from Portland, ORfrom

-Plenty a future has been pondered in a French café, and so it was for Sallie Ford. During a tiring tour of Europe last winter Ford's then-bandmate Jeff Munger mentioned he was ready for a break from the tours Ford and her band, The Sound Outside, had logged. She said she too was ready for something new. "And I said, 'I wish I could have an all-girl band,'" Ford says.

She could.

Ford calls Slap Back, her Vanguard Records debut an "ode to all the babe rockers." To Pat Benatar and PJ Harvey, Xene Cervenka, and Joan Jett, and Heart. But it's also her first album without guitarist Munger, bassist Tyler Tornfelt and drummer Ford Tennis, so Slap Back is just as much an ode to herself, to her accomplishments and her ambitions.

She wanted to play more guitar, so she made herself the guitar player. She wanted to play in a band with keyboards, so she signed up Cristina Cano (Albatross, Siren & the Sea) on keys. She added Anita Lee Elliott, who's been in Viva Voce and Blue Giant, on bass, and Amanda Spring (Point Juncture, WA.) on drums. Like that, Ford had the band she hoped for.

Ford wanted to distance herself some from the rockabilly tag she and the Sound Outside picked up over the course of two albums bookended by two EPs. So she wrote garage rock, surf rock, and straight up rock songs. "I wanted to blend different eras of music–the 80s, 90s, 60s, 70s–maybe some 50s," she said, before pausing. "I was kind of over the 50s."

She turned her room into a studio and sat for hours with a notebook, her guitar, a friend's Nord Electro keyboard, and a four-track recorder. She downloaded drum loop apps with basically named rhythms like Rock Beat 1 and wrote to those. She tracked vocals on top of vocals. Slap Back's opening song, the appropriately titled "Intro," finds Ford alone in that room, building an a capella gospel tune that ends with the assertion, "I'm happy, I'm spoiled, I'm fine."
Tacocat
Emily Nokes, Eric Randall, Bree McKenna, Lelah Maupin
-from Seattle, WA

-Like a fluorescent-lit snack-aisle oasis in some desolate interstate road stop, brimming with Skittles and limited-edition Sno Balls, Tacocat's Easter-egg-hued pop-punk-pop is bubblegum-sticky with hooks, bound to brighten up the most drab stretch of bummer backroad. The foursome would quickly make a name for themselves with their simply energizing power pop, drawing on classic Northwest energy with an uncommonly upbeat, surfy swag that could only come from gray skies and hydroponic sunshine. Their sly and unabashed '90s revivalism has, in the past, found the band pondering Evan Dando and Waterworld—and Bree herself explains finding about riot grrrl via Napster and Julia Stiles in 10 Things I Hate About You. They've described themselves variously as "Feminist sci-fi" and "Equal parts Kurt and Courtney"; oh well, whatever…NVM.


Pookie & The Poodlez
Pookie + Friends
-from Oakland, CA

-On the hottest day of the year an underwear-clad front man screemed into a yellow telephone receiver living a second life as a microphone. Burger Records' Pookie and the Poodlez ruled this show with a 60's, semi-surf punk sound, combined with the grit of the Ramones and the poppy harmonies of the Monkees.!