Friday
December 18
2015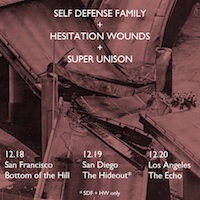 8:30PM

doors -- music at 9:30PM

•••

ALL AGES




$

12


Self Defense Family
www.facebook.com/selfdefensefamily


post-punk


Hesitation Wounds
www.facebook.com/deathwishinc/posts/300437506748488


punk


Super Unison
www.facebook.com/SuperUnison


punk post-hardcore



---
Self Defense Family
Eric, Andrew, Doody, Hans, Patrick
-from Cohoes, NY
-

-Self Defense Family (sometimes shortened to Self Defense and previously known as End of a Year) is a post-punk outfit with members from across the United States and England, origin Cohoes, New York, United States.

The band started in 2003 as a side project for a number of Albany musicians already involved in full-time bands. Having spent time in heavier bands, the initial End of a Year line-up was interested in trying something more overtly melodic. Taking their name from an Embrace song, the band's original sound was highly influenced by the Revolution Summer-era DC bands.

Try Me is the fourth studio album an first under this moniker - previous studio albums were released under the name End of a Year. The album was released on January 2014 through Deathwish Inc, though they have released various EP's and splits with Run for Cover Records.
Hesitation Wounds
Neeraj Kane: guitar, Jay Weinberg: drums, Jeremy Bolm: vocals, Stephen LaCour: bass
-from Arizona and other places

-Hesitation Wounds is the combined sound of different backgrounds and 5 hours of song writing. In May of 2012, the idea was to combine friends (some of whom had never met) from different bands and see what could happen in one afternoon. Jeremy Bolm, vocalist of Hesitation Wounds (and Touché Amoré), commented, "I told Neeraj Kane (The Hope Conspiracy, Suicide File, Holy Fever), Jay Weinberg (ex-Against Me!), and Stephen 'Scuba' LaCour (Ex-Trap Them, True Cross), 'Let's write as many songs as we can on Sunday and record them on Monday.' Jay was in town and Scuba agreed to come out from Arizona for the weekend. What we came up with was three songs and an intro. We recorded them Monday afternoon with long time friend and always-available-for-my-stupid-shit, Alex Estrada. Lyrically, the songs are about witnessing the murder of a friend, the life and death of the inspirational underdog folk singer Phil Ochs, and the overall reality of life. Sonically, it's an abrasive / no strings attached outpouring of fast and heavy hardcore not far off from the bands we're already responsible for. We're proud of the outcome and we hope you enjoy."
"This is SV02. (because I couldn't live with myself having anyone else put money into such a capricious idea)." - Jeremy Bolm

Super Unison
Dani, Kevin, Justin, Meghan
-from Oakland, CA
-
Post hardcore from San Francisco/Oakland, California. Super Unison's EP strikes an exciting balance between aggression and musicality produced by dynamic songwriting, strong performances, thoughtful lyrics, and tasteful production. The resulting mix of songs is an appealing and refreshing sound that honors the genre's greats while remaining wholly original.