Friday April 29
2016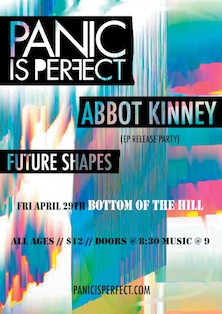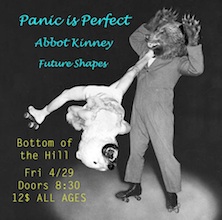 8:30PM

doors -- music at 9:00PM

•••

ALL AGES




$

1

2


Panic Is Perfect
www.panicisperfect.com/


dance eclectic indie pop


Abbot Kinney
abbotkinneymusic.com/


Alternative // Rock // Indie


Future Shapes
www.facebook.com/futureshapes
Shitwave


---

Panic Is Perfect
Mike Hoffman, Jeremy Belzer, David Monzon, Ty Parker, Joey Hassid
-from San Francisco, CA


-Panic Is Perfect writes simple indie pop songs with meaningful lyrics and melodies that stay with you long after the songs end. Sharing vocals, Mike and Jeremy sway the listener in and out of catchy vocal and melodic hooks, danceable beats and textures that reflect their well-travelled global tastes and influences. As multi-instrumentalists, they both play most of the instruments on their recordings. They each sing lead vocals on the songs that they contribute as writers, adding more diversity to the overall sound. Ultimately Panic is Perfect writes songs that, when stripped of all their elaborate production, are meaningful, memorable and undeniably unique and infectious.






Abbot Kinney


-from San Francisco, CA




-Abbot Kinney is a rock band that thrives on big vocal hooks, a heavy, intricate rhythm section and an ambitiously grand scope, and while lead singer-songwriter Jared Swanson was certainly influenced by the "alternative" label of yesterday, his music wholly belongs to the 21st century.






Future Shapes
Fil, Cala
-from San Francisco, CA


-Reverb-happy Sad-boy music from San Francisco.