Thursday
May 5
2016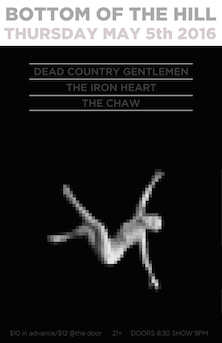 8:30PM

doors -- music at 9:00PM

•••

21 AND OVER




$

1

0

in advance

/ $12

at the door


Dead Country Gentlemen
www.deadcountrygentlemen.com/


country-rock


The Iron Heart
www.theironheartband.com/


Hard rock, Blues, Post-grunge


The Chaw
thechaw.bandcamp.com/


Indie Rock



---

Dead Country Gentlemen
Cameron Ray - Guitar/Vocals,
Stephen Nellis - Bass,
Ricky Marasigan - Keys,
Sam Arrow - Drums
-from San Francisco, CA


-Formed in the fall of 2013, Dead Country Gentlemen are fronted by Cameron Ray, a California-born songwriter raised amid the bright lights and dark motives of Las Vegas. The band's music combines thundering distorted guitars, stomping rhythms and catchy melodies with emotionally charged lyrics about love, loss and the liquor that fuels both. It has roots in the great country-rock songwriters of the past with contemporary sounds and themes. Dead Country Gentlemen are a San Francisco-based quartet comprised of guitar, bass, drums, and keys. Having played throughout San Francisco, Oakland, Berkeley, Santa Barbara, Ventura, Ojai, San Luis Obispo and Reno, Nevada, the Dead Country Gentlemen put on a loud, high-energy live show that often results in breaking a sweat, breaking a string, and on some occasions, breaking skin.






The Iron Heart
Justin Altamura, Thomas Fine & Joel Fennie
-from Napa, CA
-The Iron Heart is a hard hitting rock band from California. Formed in 2013 by Thomas Fine, Justin Altamura and Joel Fennie. The trio has always played music together through the years, and have now re-formed to create The Iron Heart.

With an energetic rhythm section and soaring guitars, The Iron Heart delivers a signature sound that has been described as "the new rock n roll". Thomas Fine's unique vocal style offers up honesty and passion. Justin Altamura's definitive bass sound gives the extra spice and also delivers world-rocking riffs. On the drums, Joel Fennie, unleashes a thunderous approach which gives the band a big, bold sound. Together they have created a sound that blends traditional hard rock with blues & punk influence




The Chaw
Jeff Tollefson, Jarrod Taylor, Stephen Schreffler, Joe Roethlisberger
-from San Francisco, CA
-The Chaw is a four piece Psych Rock band from San Francisco.
The Chaw's sound is very strong in character. Dark moody sounds, drenched in reverb, referencing soundtracks of the classic spaghetti westerns, big open bar chords and barky low register guitar leads ala Dick Dale, and psychedelic soundscapes, take you on a trip on a dusty trail through a vivid world, full of mystery, and intrigue.