Friday May 6
2016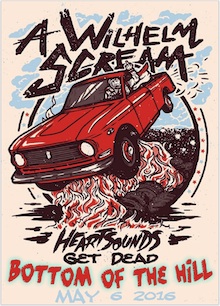 8:30PM

doors -- music at 9:00PM

•••

ALL AGES




$

1

3

in advance

/ $15

at the door
A Wilhelm Scream
www.facebook.com/awilhelmscream/


melodic hardcore


Heartsounds
www.facebook.com/heartsoundsband/


Fast, Melodic Punk Rock


Get Dead
www.facebook.com/getdeadband/


Electric & Acoustic Punkrock




---

A Wilhelm Scream
Nuno Pereira – vocals,
Trevor Reilly guitar, vocals
Mike Supina – guitar
Brian Robinson – bass guitar, vocals
Nicholas Pasquale Angelini – drums
-from New Bedford, MA
-Post hardcore quintent A Wilhelm Scream formed in New Beford, MA, in the mid-'90s.
Playing gritty punk rock in the same vein as Hot Water Music and Propagandhi, the group has since toured all over the country with th elikes of Rise Against, Pennywise, the Lawrence Arms, Less Than Jake, and Strung Out. Originally called Smackin' Isaiah, the group released The Way to a Girl's Heart Is Through Her Boyfriend's Stomach on All About Records in 2001 and The Champagne of Bands... We Know Sexy EP on Fork In Hand in 2002. The Benefits of Thinking Out Loud, originally issued by Tank Records in 2002, was re-released by Jump Start two years later. Finally settling down with one label, 2004 saw their debut Nitro release, Mute Print, surfrace. The group then played shows with Near MIss and Much the Same before hitting the studio in March 2005. Since then, they've been producing quality music and playing their melodic hardcore/punk all over the country.




Heartsounds
Ben Murray- Guitar, Vocals, Laura Nichol- Guitar, Vocals, Bobby Taul- Bass
-from Oakland, CA


-technically driven, heavy metal-influenced guitar work, thundering drums, and harmony laden melodic dual vocal performances between guitarist/vocalists Laura Nichol and Ben Murray. They have punk-rock heart and hook-driven songs.






Get Dead
Sam King - Lead Vocalist, Tim Mehew - Bass/Vocals, David "Moki" Marino - Guitar/Vocals,
Mike McGuire - Guitar/Vocals, Scott Powell - Drums & Bellpepper
-from San Francisco-Oakland-San Jose-Sonoma-Santa Rosa = Yay Area!!
-GET DEAD are an electric/acoustic punkrock band from San Francisco, CA. Brought together by their appeal for punkrock, joy of acoustic impurities and desire to keep it simple. They continue to bring their debaucherous electric/acoustic punkrock to all towns, events, venues and fans that will tolerate them, baptize them in beer and indulge in after hours dance parties with maximum bubbles.