Saturday
May 7
2016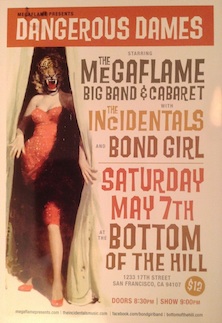 8:30PM

doors -- music at 9:00PM

•••

21 AND OVER




$

1

2




MegaFlame presents...

Dangerous Dames


The MegaFlame Big Band & Cabaret
www.megaflamepresents.com/


jazz, blues, cabaret


The Incidentals
www.theincidentalsmusic.com/


alternative indie


Bond Girl
www.facebook.com/bondgirlband/


Rock



---

The MegaFlame Big Band & Cabaret
Angela LaFlamme (vocals), Richie Leeds (guitar), Tim Orr (drums), Greg Olwell (bass), Jimmie Sancious (tenor sax), Al Conde (keyboards) and Pete Sembler (trumpet) Featured Guest Performer: Casey Jones Bastiaans (vocals)
-from San Francisco, CA
-The MegaFlame Big Band and Cabaret plays a mish-mash of mid-century jazz, blues, and cool "re-conceived" versions of contemporary tunes. We include a lot of theatrical elements in our playa-inspired set which runs the gamut from Ella Fitzgerald to Morphine and from Tom Waits to Big Mama Thorton.

A MegaFlame event is always a BIG show with a constantly evolving family of performers. Not only killer tunes from the 1920s, 1930s and 1940s, but also vintage-style burlesque, fire arts, schtick, and plenty of costume changes! MegaFlame is a step back in time with a modern twist.





The Incidentals
Sioban Dixon, Russ Kiel, Jason Silverio, Martin Webb
-from San Francisco, CA


-Familar songs take on new identities in the hands of The Incidentals. Material from Patsy Cline to Neil Young, from The Cure to The Carpenters, gets reinterpreted with drama, mystery, and soul. A simple line up of guitar, upright-bass, and drums is fronted by Sioban Dixon's character-rich vocals creating a sound that draws on their combined experience of playing indie, soul, americana, jazz, punk, and experimental musics. The Incidentals are full of contradictions - simultaneously familiar and strange, both a tribute and a deconstruction, a moody noirish celebration that shouldn't work but totally, totally does.






Bond Girl
Cherie Lebow: Vocals, Guitar | Andrew Lipnick: Guitar, Uke | Paul McCue: Trumpet | Geo Kitta: Bass | Steven Hartnett: Drums
-from San Francisco, CA
-Bond Girl is a James Bond themed rock band in San Francisco.