Friday
May 27
2016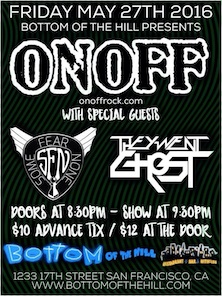 8:30PM

doors -- music at 9:30PM

•••

21 AND OVER




$

1

0

in advance

/ $12

at the door


ONOFF
onoffrock.com/


Rock n Roll


Some Fear None
www.somefearnone.com/


Rock /Hard Rock


They Went Ghost
www.facebook.com/TheyWentGhost/


Rock/Reggae




---

ONOFF
PAULIE - Guitar, Vocals, DAVE - Bass, Vocals, STEVIE 10 BEAR'S - Drums & Cymbals, Vocals
-from Dublin/Dundalk, Ireland
-ONOFF have released and have been a part of many successful projects in Ireland and throughout Europe.. Their highest accolade to date is the release of the bands debut European album 'DONT TAKE OUR WORD FOR IT' which put them on the cover of 3 major German music magazines, Stardust magazine, OX Fanzine & SLAM(Austria) . The release was supported by 12 Headline tours of Europe including shows in Germany, Netherlands, Belgium, Austria, Switzerland, England, France and 2 summer 2009/2010 European Festival Tours. The album was received unanimously well across the European media with raving reviews right across the board.

From excessive touring of Europe ONOFF have obtained over 25,000 Fans throughout the bands Social Media Websites and have reached over 250,000 views/site hits. In 2009 ONOFF won the title of "Best Unsigned Irish Band" in a public vote by leading Irish Music Magazine HOTPRESS. The prize for this accolade was an opportunity to HEADLINE the LIVE STAGE at the HOTPRESS 2009 MUSIC EXPO in The R.D.S Dublin October 3rd alongside established acts such as Snow Patrol, Imelda May, Glen Hansard and The Blizzards.
This performance proved ONOFF have the songs and live stage presence to be up there with the best Ireland has to offer.




Some Fear None
Nathan Giguiere - Vocals/Guitar, Chuck Carrasco - Guitar, Jason Weisker - Drums,
Gina Salatino - Bass/Guitar
-from Sacramento, CA
-Some Fear None is a "Rock/Hard Rock" Band from Sacramento, Ca. After joining up in 2010, Chuck, Jason, Nathan & Gina have come together with all original material and an inspiration to create a sound that is most described as unique yet familiar.
Some Fear None truly has a rock sound of their own, mixing Grunge with Metal and Alternative with Hard Rock, they are a must see! A 2015 Sammie Award Winner for 'Most Outstanding Hard Rock band'.
Named 'Most liked Rock band' for 2013 by Sacramento's Rock station KRXQ 98 Rock.




They Went Ghost
Kolby Stancil/vocals, Brice Mosher/vocals, Leland Vandermeulen/guitar, Michael Cagley/guitar, Joseph Sullivan/bass, Daniel Cagley/drums
-from Vacaville, CA


-Hailing from Vacaville, CA, They Went Ghost blend hard rock influences to create a truly unique sound that sets them apart from other bands of the genre. The members of "They Went Ghost" all come from different types of music backgrounds ranging from many different genres of music. Their artistic combination of Rock and Reggae opens ears to melodies and lyrics that tell real life stories that the band has experienced. Kolby's ability to write a song just by explaining situations whether its Love, Hate, Life or Death is extraordinary. Inspired by Incubus, Minus the Bear, and a variety of other genres, "They Went Ghost" is a new upcoming band with over 10 years of experience in the Northern California music scene, standing out from ordinary rock bands by blending two different styles of music and putting on an energetic live performance.