Wednesday
June 1
2016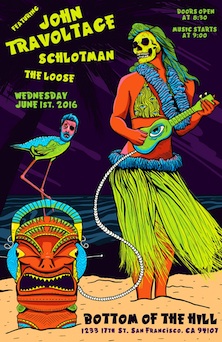 8:30PM

doors -- music at 9:00PM

••• 21 AND OVER




$

10


John Travoltage
www.johntravoltage.com/


Garage/Punk/Whatever


Schlotman
www.facebook.com/SchlotmanSF/


black metal rock


The Loose
theloose.bandcamp.com/


Garage Rock
---

John Travoltage
Richard Tubman, Alan Saura, Phil Boyer, Brady Quilici
-from San Francisco, CA
-John Travoltage is a four-piece pop punk band from San Francisco.
John Travoltage draw their influences from the likes of retro-rock acts like The Minutemen, Superchunk and Pavement, skate and surf punk bands like NOFX and Rancid, and contemporary neo-garage bands like Wavves and Japandroids. While the songs follow pop structure for the sake of palatability and dance-ability, John Travoltage seeks to subvert the inherent nature of pop aesthetics with bratty and iconoclastic lyrics that shove a decidedly adult middle finger at the notions of celebrated mediocrity, capitalist hierarchy, and Western exceptionalism that run rampant within the narrative of the modern American nouveau-urban denizen.




Schlotman


-from San Francisco, CA




-(Schlotmann) topographic name for someone who lived in a marsh, from Middle Low German slot 'ditch', 'swamp' + man 'man'.occupational name for a locksmith. Schlotman first came together in the winter of 2014 as a bi-coastal recording project between former members of WAG (DR Records) and Kal Marks (Exploding in Sound). Now based solely in San Francisco, the band has moved far beyond its modest 4-track beginnings with the release of their new 7" single, Oakland.






The Loose
Vox/guitar: Matthew Canter
Bass: Drew Pummer
Drums: Brent Watson
-from Oakland, CA


-The Loose is a 3 piece garage rock band from Oakland. Built around heavy blues riffs, aggressive drums, beer, and the simple desire to make noise. Matthew Canter as songwriter, guitar, and vox. Drew Pummer on bass. And Brent Watson on drums.