Friday
June 3
2016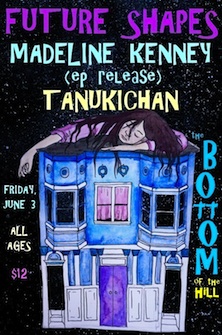 8:30PM

doors -- music at 9:00PM

•••

ALL AGES




$

1

0


Future Shapes
www.facebook.com/futureshapes


dream pop experimental indie rock noise ~ shitwave


Madeline Kenney


EP release


soundcloud.com/madelinekenneymusic


alternative dreampop folk gaze


Tanukichan
Hanna from

Trails And Ways


www.facebook.com/tanukichanmusic


alternative dreampop



---

Future Shapes
Fil Cala :: Steven Johnsrude :: Melina Duterte :: Peter Svetlichny :: Jamie Dequine
-from San Francisco, CA
-Future Shapes is a four-piece shitwave band from San Francisco, CA. Originally Fil Cala's moniker, the band has quickly evolved--working together since early 2015 to push their psychedelic-comedown brand of indie-rock around the SF-Bay Area. Already they've performed at home-town-favorite Bottom of the Hill, headlined at Brick & Mortar Music Hall, and helped sell out the beloved Viracocha. Their split EP released in April received high marks from around the web, most notably from the Bay Bridged.

After their last performance at the Rickshaw Stop with Nick Diamonds (ex-Unicorns/Islands) they went into hiding, preparing to release their debut EP titled Microchasm. They've since premiered their first single, "Feel", via NYC's the Big Takeover.
"They describe their sound as "shitwave", but don't let that deter you in the slightest cause 'Feel' is exactly what you want soundtracking your Friday (a little fuzz, reverb, and lo-fi rock)."
-Site of Sound




Madeline Kenney
Madeline Kenney - Guitar, Vocals, Keys,Aaron Gold - Drums, Scott Brown - Bass, Derek Barber - Guitar
-from Oakland, CA


-Madeline Kenney is an Oakland-dwelling Seattle transplant, whose background in bakeries and neuroscience somehow add up to the production of twang-hazey dream pop. It's like if Loretta Lynn had a secret shoegaze project and an obsession with a looper pedal.






Tanukichan
Hannah van Loon
-from San Francisco, CA


-Tanukichan is the new solo venture of Hannah van Loon, who recently left Trails and Ways after a four year stint with the band. Just yesterday she released "Bitter Medicine," her first recording as Tanukichan. It's a lovely introduction to her new project, with an (almost) never-ending bassline leading the way and constant harmonies that flowing from melodic to eerie and back again as they move. You can tell van Loon had a strong influence on the sound of Trails and Ways (and vice versa), but it's clearly a new direction. Give a listen to "Bitter Medicine" below.