Sunday
June 5
2016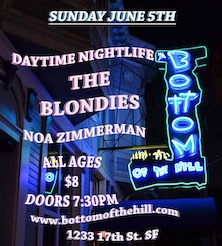 7:30PM

doors -- music at 8:00PM

•••

ALL AGES




$8


Daytime Nightlife
www.facebook.com/daytimenightlife/


Renaissance Rock


The Blondies
www.theblondiesband.com/


Indie Rock


Noa Zimmerman
www.noazmusic.com/


Indie Acoustic




---

Daytime Nightlife
Mark Malec, Gary Malec, Matt Tucci, Arjun Iyengar,
-from San Francisco, CA
-Daytime Nightlife is an American "renaissance rock band", formed in San Francisco in 2015. The band consists of brothers Mark (lead vocals, lead guitar) and Gary (bass, backing vocals) Malec, Matt Tucci (drums, backing vocals), and Arjun Iyengar (keyboards). Inspired by the likes of Incubus, Kings of Leon, Third Eye Blind, and a splash of Dr. Dre, Daytime Nightlife began playing shows in houses, warehouses, and parks before quickly rising to pack historic Bay Area venues. Known for their "DIY" attitude, they manage, promote, design, and create everything themselves. In this spirit, the band members recorded, mixed, mastered, and produced their self-titled debut album (2015) Daytime Nightlife aspires to bring good vibes + laughter wherever they're heard, and one day conquer the world.





The Blondies
-Frank Klopotowski, Paul Davis, Jerry Feist, Simon Lunche, Isaac Roth, Elias Williams
from Berkeley/Oakland, CA
-The Blondies are Berkeley and Oakland California natives. We have been playing music together for nine years. The Blondies' gigs include playing at popular Bay Area spots like The Freight & Salvage, The Regency Ballroom, Slims, and The New Parish. One of our biggest achievements, thus far, is receiving the Gibson Guitars Artist award. We were the youngest band to ever get this honor. Another big milestone for The Blondies was being featured in BAM magazine.

Our fourth album, Beautiful Life, blends jazz, rock and pop sounds, mixing personal stories of love and friendship. On this album we add some flute and violin to our arrangements, creating dramatic crescendos in one song and simple harmony in others. Beautiful life will have you dancing and singing long after the music has stopped.




Noa Zimmerman
Noa Zimmerman
-from San Francisco, CA
Noa Zimmerman is 17 year-old Bay Area acoustic alternative style singer/songwriter with three original albums, the newest of which is self-titled and available on iTunes and Spotify.