Tuesday June
7
2016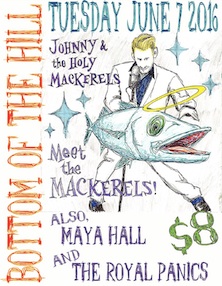 8:30PM

doors -- music at 9:00PM

•••

21 AND OVER




$

8


Johnny And The Holy Mackerels
www.facebook.com/Johnny-and-the-Holy-Mackerels-1377155229216179/


Rock n' Roll


Maya Hall
www.mayahallmusic.com/


from Japan, now SF




singer-songwriter


The Royal Panics
www.facebook.com/theroyalpanics


rock




---

Johnny And The Holy Mackerels
Johnny Thompson and friends
-from San Francisco, CA
-Johnny and the Holy Mackerels is a kickass rock n' roll duo influenced by the likes of David Bowie, Nirvana and Big Star.





Maya Hall
Maya Hall
-from Japan/San Francisco, CA
-A native of Fukuoka, Japan, Maya Hall moved to San Francisco in 2014 in search of bigger musical pastures. In Japan, where singers are held to high standards in comparison to the United States, Maya had been a part of the music scene as a respected vocalist, taking part in a variety of different acts in Fukuoka and Tokyo.

Since moving to San Francisco, Maya has trained herself how to play the guitar in order to write her own songs, and has done so with the same musical agility she reveals when she sings. Like her voice, her guitar playing is equally her own silky and sweet style. When she plays, her chord progressions, dainty riffs and interesting rhythms match her soul exactly.

Maya Hall has been an integral part of the singer-songwriter scene in San Francisco, and has made many friends in the greater Bay Area music circles, but for two years had nothing to show for it when new and old fans asked about her music.

Finally, with the help of Tommy P. (11th Avenue Records), Bozho Lasich (PST Studios) and Joel Alan Taylor (One Earthling Records), Maya Hall has a sparkling new record for her friends and fans. Her album, "Lines", marks her first ever release of any kind.
-




The Royal Panics
Greg Hoy Mark Nichoson Dennis Galway
-from San Francisco, CA
-Musician Greg Hoy slugged it away in New York City rock bars for 10 years before migrating to San Francisco. Six months of false starts, drunken auditions, and missed connections led to meeting Mark Nichoson via an ad on craigslist in November of 2013.

Mark knew Dennis Galway from their previous band. The first jam was a love fest of rare and special sort. Releasing a live cassingle for 'Special Party' (recorded at their first gig at Thee Parkside), the band is finishing up 5 tracks recorded at Acme Hall studio in Brooklyn for release.

Hoy put out his first solo album in 2003, landing the opening track 'Tested By History' on the TV show 'One Tree Hill'. His bands in NYC — including Hoy, Greg Hoy & The Boys, Twice As Bright, & Century Club — performed nearly 500 shows in 5 years. Over 20 releases live in his collective catalog, many self-recorded and performed, alongside records done with Steve Albini, J. Robbins, John Vanderslice, and Jason Jouver, among others.

Mark is a versatile veteran of the SF music scene, having been around the proverbial block with artists like punk progenitors, Whipping Boy (produced by Klaus Flouride), Schmoovy Schmoov (Digital Underground), Phil Crumar (Asphodel Records), indie rockers The Downfalls, and mostly recently, the skull crushing prog rock of Rule in Exile.

Dennis has performed in Carlos, The Hampton Wicks, and Rule in Exile, among others.