Saturday
June 11
2016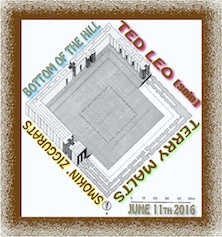 8:30PM

doors -- music at 9:30PM

•••

ALL AGES




$

14

in advance

/ $16

at the door


Ted Leo (solo)
www.facebook.com/TedLeo/


indie punk-rock singer-songwriter


Terry Malts
www.facebook.com/terrymalts/timeline


pop punk


Smokin' Ziggurats


(members of Social Studies and Foli)


www.


blistery garage rock




---

Ted Leo (solo)
Ted Leo
-from South Bend, IN
Leo was a founding member of the New York punk band Citizens Arrest in 1989. In the 1990s, Leo played in bands that included Chisel, Puzzlehead, and The Sin-Eaters.

Ted Leo and the Pharmacists was formed in 1999 in Washington, D.C. The group recorded six studio albums between 1999 and 2010. Leo has also maintained a consistent presence as a solo performer since the 1990s.

In early 2013, Leo and Aimee Mann formed a duo called The Both, after Leo had toured with Mann for several months as her supporting act. He and Mann began writing songs together, and in March 2013, the duo performed their first show together as The Both (originally formatted as the hashtag #BOTH). Their self-titled debut album, The Both, was released in April 2014.





Terry Malts
Hammy (Guitar) Nacie (Drums) Phil (Bass)
-from San Francisco, CA
-Since 2010 and over 2 albums and a slew of singles and tapes, Terry Malts have been exploring the murky area where hope meets disgust, an area populated with anger, hatred, exhaustion, delusion, seclusion, consumption, life, death, breathing, eating and a host of other conflicting and confusing ideas. Their records to date have a been a refreshing blast of catchy punk, pop-influenced but also chaotic, noisy, shredding. Imagine Bubba from Void sitting in with Descendents and and you're part of the way there. Fall 2013's Nobody Realizes This Is Nowhere was their most concise release yet - a concentrated blast of melodic bile that cast a long look at life and didn't always like what it saw.
The Insides EP might be their most "pop" record yet, but don't let that make you believe that they've given up on the blazing, verge-of-feedback guitars or pummeling rhythms. "Let You In" is classic power-pop revved up and played LOUD - a pogo party in under two minutes. "Grumpiest Old Men" is an ode to telling those damn kids to get off your lawn, showcasing guitarist Corey Cunningham on vocals. "Don't" is a stop/start thriller, dark and driving but as always sporting a melody that most pop bands would slay for. Wrapping up the EP is a fine version of New Zealand legends The Chills' "Hidden Bay," giving some insight into the varied influences that feed into Terry Malts and help explain why "pop" and "punk" don't adequately describe what they do.




Smokin' Ziggurats


(members of Social Studies and Foli)




-from San Francisco, CA


-Smokin' Ziggurats are as mysterious as their name is epic. This photo is their only visual asset so far, and they don't have a Facebook. The details are sparse, but there are some things about them we know for sure: 1) The supergroup is composed of members of San Francisco bands Social Studies and Foli. 2) They definitely know how to craft a blistery garage rock number. 3) We know this because they dropped their first EP, self-titled, on Soundcloud.

At one point, you could hear all five songs from this release, but as of writing this post, only two remain. We'll focus on what we think is a standout: "Psychic Palms." You know that kind of garage rock that sounds sloppy and raw but amazingly well-crafted at the same time? The Ziggurats take this model and apply it to a mid-tempo number that may be a low-key anthem someday. Rough around the edges vocals blend with tight drums and subtly brilliant guitar licks that lead to soaring solos. What makes it especially stand out is what they do with tempo. Somehow, they always sounds like they're trudging behind the beat, but the effect is that the listener is always on the edge of their seat. While simultaneously fist-pumping. Yes.