Sunday
June 12
2016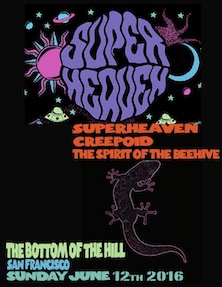 7:00PM

doors -- music at 8:00PM

•••

ALL AGES




$

15

in advance

/ $18

at the door


Superheaven
www.facebook.com/superheavenband


Rock


Creepoid
creepoid.com/


acousmatic grunge psychedelic shoegaze


The Spirit Of The Beehive
www.facebook.com/thespiritofthebeehive/


alternative




---

Superheaven
Taylor, Jake, Zack, Joe
-from Doylestown, PA
-Formerly known as Daylight.

Superheaven has spent the last five years honing their grunge buzzing and desperate sound across four EP's, showcasing and perfecting a talent for writing both jarringly heavy and delicately emotional songs. Combined with relentless touring across the U.S. and Europe since the band first formed in 2007, the stars aligned for Superheaven's Run For Cover Records full length, Jar, an outstanding and highly-anticipated debut LP.

Engineer and producer Will Yip's massive production knocks you on your ass from the very first drum hit and snarling guitar riff on album opener "Sponge." The stadium-sound drums fill the record, plus pulsing bass and walls of buzzsaw guitars are all mixed with the size and clarity of major label grunge breakthrough records like Nirvana's Nevermind and Smashing Pumpkins' Siamese Dream.

Since the 2013 release of Jar, Superheaven has stayed true to the ways of their past, spending the majority of the past year and a half on the road. The band is about to embark on their first European headlining tour with Nai Harvest as support but before that, they'll reunite with Basement on the UK emo-grunge band's U.S. reunion tour. And later this year, Superheaven will head back in the studio with longtime friend and producer Will Yip to begin work on their SideOneDummy debut, due sometime spring 2015.





Creepoid
Anna Troxell
Patrick Troxell
Sean Miller
Bil Fries
-from Philadelphia, Pennsylvania
-Creepoid have released two acclaimed albums (HORSE HEAVEN (2010) and CREEPOID (2014)) and two EPs (YELLOW LIVE GIVER (2010) and WET (2014)). Their much-anticipated third full length CEMETERY HIGHRISE SLUM comes out June 23, 2015 on Collect Records.

Creepoid has shared the stage with Dinosaur Jr., Against Me!, Kurt Vile, Refused, Failure, The Pains Of Being Pure At Heart, Protomartyr, Best Coast, Swervedriver, ...Trail of Dead, A Place To Bury Strangers, Twin Shadow, Warpaint, Black Moth Super Rainbow, Night Beats, Psychic Ills, Wooden Shjips, Black Lips, Cloud Nothings and Cymbals Eat Guitars.





The Spirit Of The Beehive


-from Philadelphia


-Philadelphia five-piece the Spirit Of The Beehive released a great and overlooked EP, You Are Arrived (But You've Been Cheated), last month, and they've just announced that they have signed to Jade Tree Records to put out their next full-length, which they'll go into the studio to record early next year. They've also shared a video for the heavy, psych-influenced title track of their latest EP, featuring distorted, laggy shots of people experiencing… pleasant alone time. If you haven't checked out this band yet, please do. It's totally worth it




The Spirit of the Beehive // YOU ARE ARRIVED (but you've been cheated) (official video) from Federico R. Casanova on Vimeo.