Wednesday June
15
2016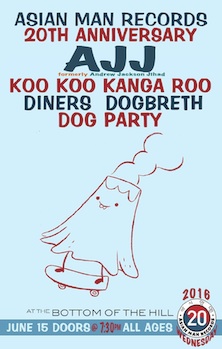 7:30PM

doors -- music at 8:00PM

•••

ALL AGES




$

20




Asian Man Records 20-Yr. Anniversary


AJJ
formerly

Andrew Jackson Jihad


www.andrewjacksonjihad.com/


folk punk


Koo Koo Kanga Roo
kookookangaroo.com/#home


comedic dance-pop punk


Dogbreth
dogbreth.bandcamp.com/


pop punk


Diners
diners.bandcamp.com/


rock and roll pop


Dog Party
www.facebook.com/dogpartylive/


Rock 'n' Roll




---

AJJ
formerly

Andrew Jackson Jihad


Ben Gallaty: Hate Stick, Sean Bonnette: Hate Stick
-from Arizona


-Andrew Jackson Jihad is a randomly selected focus group of developmentally challenged men and women who mostly live in the state of Arizona. AJJ (Formerly known as Andrew Jackson Jihad was formed by Sean Bonnette, Ben Gallaty and drummer Justin James White who left the band soon after. Since then, many musicians have sat in with the remaining duo of Sean and Ben, including (but not limited to): Jeff Rosenstock, Stephen Steinbrink, Lee Hartney, Abe Gil of Treasure Mammal, John de la Cruz of Fatigo and ROAR's Owen Evans. Kepi Ghoulie of the Groovie Ghoulies whistled for them in the recording of the song "Sense, Sensibility". Dylan Cook of Partners In 818 also plays mandolin regularly with the band. The constantly shifting lineup results in wide-ranging sound both live and on record.






Koo Koo Kanga Roo
Bryan (Professional Choreographed Dancer and Gummi Worm Eater)
Neil (Expert Hip Shaker and Birthday Cake Maker)
-from Minneapolis, MN
-We are Koo Koo Kanga Roo, We Like Dance Parties.

Koo Koo Kanga Roo is a live show unlike anything you have ever experienced. With the carefree simplicity of your kindergarden days, a Koo Koo Kanga Roo party is a family fun dance extravaganza for kids and adults of all ages! The undeniable urge to move your body will lead you to the dance floor as you hear their catchy pop melodies and infectious dance beats. Their live show is jam packed with zany sing-alongs and choreographed group dancing that is guaranteed to have the crowd on their feet and engaged in the fun!




Dogbreth
Tristan, Tyler, Erin, Liam, and/or Cesar, Trever, Mallory, Nathan and Mitchell.
-from Phoenix, AZ


-Constantly challenging what one expects from a punk band, Dogbreth constant touring schedule and onslaught of new material make them a force to be reckoned with in the coming years. Not just a Citizen Dick worship band from Phoenix.






Diners
Tyler Broderick with Tristan Jemsek, Cesar Ruiz, Jill Cook, Robert Raya, Christian Reeb, and Aaron Ponzo. It really depends on the night.
-from Phoenix, AZ
-Diners play wide-eyed, lush indie-pop and hail from the same Phoenix, AZ scene that has fostered other great bands like Andrew Jackson Jihad, Dogbreth, and Roar.




Dog Party
Gwendolyn- guitar/vox, Lucy Giles- drums/vox
-from Sacramento, CA


-Dog Party! Catchy melodies, tight harmonies, fuzz pedals and big drums; what more could you possibly want in a rock and roll band? Formed in 2007 by sisters Gwennie and Lucy Giles, the duo draws influence from the classic sounds of the Ramones as well as contemporaries Ty Segall to synthesize their own unique style. Careful listeners will also notice a nod to bands like Cub and Tiger Trap, the former of Sacramento, CA lineage as well.