Saturday June
18
2016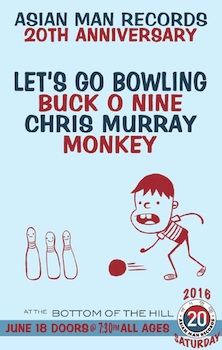 7:30PM

doors -- music at 8:00PM

•••

ALL AGES




$

20




Asian Man Records 20-Yr. Anniversary


Let's Go Bowling
letsgobowling.com/


third wave ska


Buck O Nine
www.buckonine.com/


ska punk


Chris Murray
www.chrismurraymusic.com/


ska


Monkey
monkeyskaband.tumblr.com/


third wave ska




---

Let's Go Bowling
Adam 'Stampy' Lee (Percussion) Darren 'Icon' Fletcher (Organs/Keys/Vocals) Dean 'Steamer' Olmstead (Tenor Sax) Glen 'Stains' Parrish (Lead Guitar/Vocals) Mark 'Grimace' Michel (Bass/Vocals) Paul 'Family Man' Miskulin (Guitar/Harp/Vocals) Rob 'Dawg' Ruffner (T-bone/Biznizz)
Tony 'The Continental' Luna (Trumpet)
-from Fresno, CA
-Since the band's inception in 1986, the band's mix of 2Tone and traditional style ska, barbershop harmonies, wisely crafted instrumentals, and its frantic live performances, helped set the standard for dress and culture for West Coast Ska, which in turn, set the groundwork for the Third Wave Movement in 1995.

Let's Go Bowling has shared the stage with many diverse musical acts, including No Doubt, Pearl Jam, Goo Goo Dolls, Men at Work, The English Beat, Steel Pulse, Busta Rhymes, The Skatalites, Reel Big Fish, Reverend Horton Heat, Fishbone, The Untouchables, Third World, Cherry Poppin' Daddies, Tokyo Ska Paradise Orchestra, Moe., the Young Dubliners, Shaggy and so many more!

Be sure to catch one of their live shows and experience the truly great music!




Buck O Nine
Craig Yarnold, Dan Albert, Jon Pebsworth, Tony Curry, Jonas Kleiner, Andy Platfoot, Steve Bauer
-from San Diego, CA


Buck-O-Nine has been playing it's unique brand of ska-punk since early 1992. Since then the band has released five studio albums, toured much of the world, and continues to play shows in and around North America.






Chris Murray
Chris Murray
-from Los Angeles, CA


-Chris Murray is a unique figure on today's music scene. As leader of Toronto-based King Apparatus, an electrifying six-piece blend of rockin' ska and pop sensibility, Chris developed a strong reputation as a dynamic frontman and one of the genre's finest songwriters. Over the group's eight year reign, King Apparatus released two-full length CDs, two EPs, made eight videos and toured coast to coast more than a dozen times, sharing stages with virtually every top act in the field, from The Mighty Mighty Bosstones to The Skatalites. Upon the band's breakup, Murray relocated to Los Angeles and emerged as a solo artist. Around southern California, Chris has made recent live appearances as guest lead vocalist for renowned Caribbean bandleader, Carlos Malcolm and His Afro-Jamaican Rhythms, as well as playing drums and guitar for Ethiopian reggae artist, Isaac Haile Selassie. From jamming with The Specials in a basement club, to trading songs on an acoustic guitar with 72-year-old boogie-ska pioneer Laurel Aitken, life has led Chris Murray down a path to the very roots of a living tradition in ska and reggae music.






Monkey

CURTIS MEACHAM - Guitar/Vox, MICAH TURNEY - Drums, RIVER "Jordan" BLACK - Bass, DUSTIN JAMES - T-bone/keys, BRIAN LOCKREM - Trumpet, BRANDON DUVALL - Sax
-from San Jose, CA
-MONKEY is a 6 piece high-energy organ driven, Ska/Reggae group from the SF Bay Area. Intense live shows and rock-steady rhythms not only get the crowds dancing, it has won the band several awards, including the prestigious California Music Award (BAMMIE)!

MONKEY sets the pace for the local music scene. The band performs over 200 shows per year, while constantly recording and touring.