Thursday

June 23

2016




8:00PM

doors -- music at 9:00PM

•••

ALL AGES




$

13

in advance

/ $15

at the door


Plants And Animals
www.plantsandanimals.ca/


Indie rock


Royal Canoe
www.facebook.com/RoyalCanoe/


...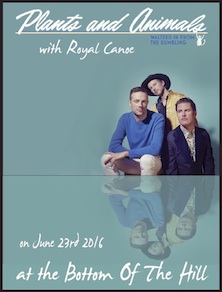 ---

Plants And Animals
Nicolas Basque, Warren C. Spicer,
Woody Matthew Woodly
-from Montreal, Canada
-Plants and Animals are a Montreal-based trio that began playing together as kids, emerged on the international scene in 2008 and have developed a varied cult following ever since, built this on the shoulders of their self-produced records, their intense live show, or both—depending on who you ask.

They have been nominated for big awards. They have appeared on major radio and television programs. They have opened for household names and headlined many tours of their own around North America and Europe.

The band's genre-jumping sound blends rootsy, acoustic-heavy folk and country with elements of classic and progressive rock. Their self-titled debut was released in 2005, followed by another EP, With/Avec, in 2007 and finally a full-length album, Parc Avenue, in 2008, the latter of which was shortlisted for the 2008 Polaris Music Prize and nominated for a 2009 Juno Award. Plants and Animals released La La Land in 2010, which also landed on the Polaris Music Prize shortlist. Arriving in 2012, the Secret City Records-issued The End of That landed its title track in the closing credits of the 2013 film Drinking Buddies, and in 2016 the band released its fourth studio long-player, Waltzed in from the Rumbling, again via Secret City.




Royal Canoe
Matthew Peters, Bucky Driedger, Matthew Schellenberg, Derek Allard, Michael Jordan, Brendan Berg
-from Winnipeg, MB.
-Royal Canoe is a band, armed with falsettos, guitars, effects pedals, drums, basses, tambourines, shakers and a six-keyboard super-weapon. Royal Canoe play lyrically sharp pop songs that move people and make people move. A six-piece ensemble from Winnipeg, Manitoba, Royal Canoe give you everything, but on their own maniacally hybrid terms. It's one thing to reference a particular style, or even a range of styles. It's another thing entirely to grab huge handfuls of sounds from pretty much anywhere, throw them all together and come up with something both cohesive and totally distinctive—something that also happens to ripple and crack with energy. This is what Royal Canoe does best.

Royal Canoe's dedication to crafting a seamless musical pastiche is obsessive. For live shows, they'd rather lug hundreds of pounds of keyboards, mixers and pedals across the continent (very much like a voyager canoe, in fact) than rely on lengthy backing tracks. They actually play every part, every time. And while their van is packed with hardware, much of that hardware is, in turn, crammed full of widely-sourced samples and adoringly homemade sounds. Their fearlessness about using whatever they feel like is grounded, not in recklessness, but in a decisive confidence.