Sunday
June 26
2016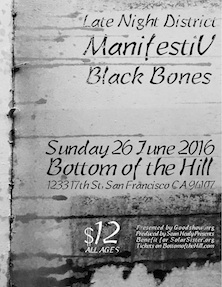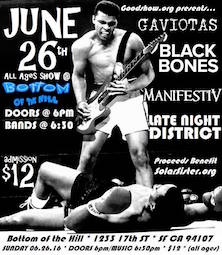 6:00PM

doors -- music at 6:30PM

•••

ALL AGES




$

1

2




Goodshow.org

presents...




A Sean Healy Production




--proceeds benefit SolarSister.org--


Gaviotas
www.facebook.com/GaviotasMusic/


Alt/Punk/Metal


ManifestiV
manifestiv.bandpage.com/


ExperimentalIndustrialAlternative


Black Bones
www.blackbonesmusic.com/


R&B influenced classic rock


Late Night District
www.facebook.com/LateNightDistrict/timeline


Ambient / Rock / Punk




---

Gaviotas
Rafael Corral - Bass/Vocals/Awesome dancing |||
Simon Timony - Vocals/Guitar/Everything but awesome dancing |||
Gabriel Gunn - Guitar/Herbal Essence Commercials |||
Christian Arriola - Drums/Vocal Chord
-from San Francisco, CA
-/gav-ee-oh-tahs/: noun - A rock band from San Francisco
Gaviotas have an aggressive yet melodic sound, combining elements of Alternative, Punk and Metal. They call it "Resistance Rock," in the spirit of The Clash, and they believe that art thrives through and with struggle.
Lead singer/guitarist/songwriter Simon Timony says, "We're politically left, and no matter how much adversity we/Americans/Humans face, nothing should take away our humor, happiness, and love. Our conversations do sound like a Seth Rogan/James Franco movie, written by Noam Chomsky."
"A metal-punk hybrid with a flair for smooth melodies and political lyrics...check out three songs (from Assemble), each of them aggressive but tuneful." — SF Weekly

Timony is the former leader of The Stinky Puffs, a favorite band of the late, great Kurt Cobain, which featured Simon's mother Sheenah on drums, Sonic Youth guitarist Lee Ranaldo's son Cody on guitar, Half Japanese's Jad Fair on effects, and Don Fleming on guitar. At the age of 11, Simon also fronted the Super Stinky Puffs, which featured Dave Grohl on drums, Krist Novoselic on bass and Ira Kaplan (Yo La Tengo) on guitar.

Timony and his current co-conspirators— Rafael Corral (Bass/Harmonies), Gabriel Gunns (Lead Guitar), and Andrew Yagjian (Drums) — wage war on war via music.




ManifestiV
Taylor & EvE
-from Vallejo, CA
ManifestiV consists of ¶ Taylor on guitar and EvE on vibraphone over heavy beats. The experimental industrial duo met in 2011 while attending mortuary school in Dallas Texas. After writing a bulk of songs in Dallas in Summer 2013, ¶ joined EvE in Vallejo California, a historic artist city less than an hour north of San Francisco, to finish the record & build a band after it. When initially searching for bandmates, EvE surprised ¶ with her closet scholarship-earning talent: shredding on vibraphone.

After forming ManifestiV with ¶ in January 2014, EvE took her instrument a step further by building a collapsable electronic vibraphone from the ground up. The fully customized vibes debuted along with the band at SXSW in Austin Texas. By the next month, the duo played the Viper Room in Hollywood, followed by gigs throughout the Bay Area's industrial scene for the remainder of the year. The ManifestiV debut "Einer Sie Gern" released at Slim's in San Francisco on 12/13/14 featuring a gallery of encaustic paintings by EvE which served as its artwork.




Black Bones
Alexander, Benjamin, Pele-Or
-from Berkeley/Oakland California
-Playing an innovative blend of R&B influenced alternative and classic rock, the power trio -- Black Bones -- have been rocking the San Francisco Bay Area music scene for the past eight years. They have played such storied clubs as the Whisky a Go-Go, Cafe du Nord, the Starry Plough, Ashkenaz and 924 Gilman.

As 7th graders, the band recorded their first EP, "Help Needed", with producer and Grammy Award winner Bonnie Hayes. A year later, they released an EP entitled, "Ten Days into 98". And, this year, their stunning 8 song, full length album, recorded at Fantasy Studios with legendary engineer Jesse Nichols (Stooges, Journey, White Stripes, Santana, Los Lonely Boys), will be available soon.

Black Bones have been together since 3rd grade! And though they are only in 11th grade, they play well beyond their years. The band is Pele-Or Greenberg on drums and vocals, Benjamin Smallson Jackson on bass and vocals and Alexander Ramabele-Newell on guitar and lead vocals.





Late Night District
Sergio Elisondo - Vox/Guitar/Drums/Piano/Synth/Bass
Mark Shriver - Vox/Guitar/Drums
-from San Jose, CA
-Late Night District is two diverse musicians, with their individual styles ranging from an ambient, atmospheric feel to a straight punk rock drive. With dreams of becoming aspiring musicians since elementary/middle school, these two began sharing a stage in high school. They've had the opportunity to grow and develop their techniques from the different bands they've performed with, leading to their new frequencies of today. With perseverance and determination, these two are ready to deliver their new sound to their listeners.