Tuesday
August 9
2016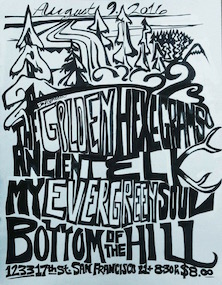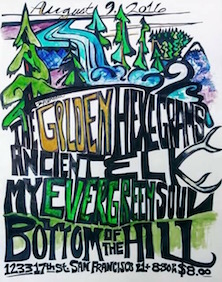 8:30PM

doors -- music at 9:00PM

•••

21 AND OVER




$

8


The Golden Hexegrams
www.facebook.com/thegoldenhexegrams


Psychedelic-Pop-Rock&Rol


Ancient Elk
www.facebook.com/AncientElk/


folk pop psychedelic


My Evergreen Soul
www.facebook.com/myevergreensoul/


progressive rock
---

The Golden Hexegrams
Langston Spencer:Guitar,Vocals
Minerva Spencer:Bass, Vocals
Geneva Harrison:Drums
-from Oakland, CA


-3 piece blistering psychedelic-pop rock and roll band from Oakland California. Led by husband and wife team: Langston Spencer (guitar, vox) and Minerva Spencer (bass, vocals). Formed in 2013 in the embroynic heart of rock and roll. Proud to be part and representitives of the Bay Area's ever flourishing rock and roll scene.






Ancient Elk
Megan Crooks- Vocals/guitar, Anna Smith-Vocals/lead guitar
Cody Coffey- Synthe/Keys/Vocals, Trey Tafoya Percussion/vocals, Pablo Cruz- Bass
-from Denver, CO


-Ancient Elk represents a synthesis of various sounds that have informed a wide spectrum of musical styles that have been running through Denver. Reconciling seemingly incompatible ideas from its members differing backgrounds, the band threads together Americana, psychedelic rock, jazz and experimental music in an original way that is also incredibly accessible. They released self-titled cassette EP in July 2014. -Tom Murphy






My Evergreen Soul
Greg Fogg, Brian Fogg and a revolving door of other great musicians
-from Concord, CA
-My Evergreen Soul is Greg Fogg's music outlet. Formed over three years ago, the band has been through countless lineup changes, with a five piece lineup currently playing together. My Evergreen Soul blends psych rock and space rock sounds, with guitar, violin, keys, drums, and bass sounds.