Wednesday
August 10
2016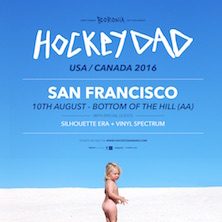 8:30PM

doors -- music at 9:00PM

•••

ALL AGES




$

12


Hockey Dad
www.facebook.com/hockeydadband/


from Australia




surf rock


The Silhouette Era
www.thesilhouetteera.com/


Dream Wave


Vinyl Spectrum
vinylspectrum.com/


blues rock indie rock
---

Hockey Dad
Zach Stephenson. Billy Fleming.
-from Windang, Australia
-For two childhood friends from a small coastal town in Australia, Hockey Dad has come a long way in their relatively short existence.

Growing up on the stages of small bars in Wollongong since mid-2013, the duo of Zach Stephenson (guitar/vocals) and Billy Fleming (drums) began to grow their following outside their home city with the release of their debut EP "Dreamin" in June 2014.

"Dreamin" was produced by Tom Iansek (Big Scary, #1 Dads) and remains the first release for newly formed Leisure Coast label Farmer & The Owl. "I Need A Woman", the lead single from the five-track EP, earned the band rotation on Triple J and FBi Radio as well as plenty of love across the web. In the US it peaked at #77 on the CMJ 200, and charted at #23 on the FMQB Sub-Modern charts.

Growing interest in the band led to national tours alongside the likes of DZ Deathrays, Bass Drum Of Death and Bad//Dreems, and they were named the winners of Triple J's Unearthed competition, landing them a spot on Byron Bay's prestigious Falls Music & Arts Festival over the new year.

"Can't Have Them" is the brand new single from Hockey Dad, in which they have just completed a national tour across Australia to launch, selling out all eight shows.

The duo are now looking to expand their reach beyond their home country. Following their recent performance at CMJ in New York, the band has just signed with Kanine Records in the US in anticipation of their debut album release in mid-2016.




The Silhouette Era
Carlos J Gonzalez: Vocals/Guitar/Synth
Clayton Payton: Bass
James Findlay: Drums
Justin Horrell: Guitar/Synth/Vocals
-from San Francisco, CA
-The Silhouette Era practically define Northern California's own brand of surf pop; not that of hot summer nights, but of freezing dawns and the sobering ennui that can only be found when you look, bleary-eyed out into an infinity of grey sky and ocean.

In late 2015 the group released their newest record 'Beacons' and have been included in numerous Bay Area playlists, including KQED's best songs of the summer. With 2016 already off to a strong start, the band is staying busy with a slew of new songs and shows lined up for the coming months.

Their sophomore record was produced by Jay Pellicci at Tiny Telephone Recording Studio in San Francisco, CA.




Vinyl Spectrum
Frank Fusco, Chris Locs, Dario Slavazza & Lance Harrington
-from San Francisco, CA
-San Francisco's Vinyl Spectrum is led by Frankie Fusco (guitar, vocals) and Chris Locs (bass, vocals). Their unique blend of rock and blues has gotten them nationally recognized and featured on NBC, Esquire Network, and Hollywood pictures. Their latest single, Plush Interior (Feat. Watsky), is a high energy, in your face track, that's brought together by San Francisco's own Watsky in his featured verse. Be prepared to have legit health insurance because faces will be melted and minds will be blown.