Saturday
August 13
2016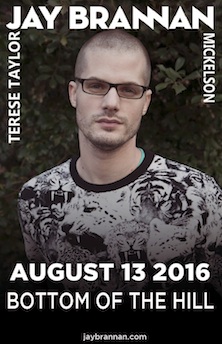 8:30PM

doors -- music at 9:00PM

•••

ALL AGES




$

14


Jay Brannan
jaybrannan.com/


singer/sonMickelson


Terese Taylor
www.facebook.com/TereseTaylorBand/


rock and slow


Mickelson
www.mickelsonmusic.com/


singer/songwriter
---

Jay Brannan
Jay Brnnan
-from New York, ny
"…wistful singer-songwriter fare…"
–David Swanson, ROLLING STONE

"…his tenor voice makes even the saddest lyrics easy on the ear."
–Fred A. Bernstein, THE NEW YORK TIMES

"the kind of indie folk that makes you feel warm and fuzzy while tearing out your insides"
–Louis Peitzman, SAN FRANCISCO CHRONICLE

"Brannan's star is on the ascent."
–James Reed, THE BOSTON GLOBE

"not for the faint of heart…but perfect for the brokenhearted"
–Alex Baldinger, THE WASHINGTON POST






Terese Taylor


-from buffalo, ny, now in SF, CA-


-"Delicious miserable music..." NYTimes.
Loud also quiet, rock and slow




Mickelson
Scott Mickelson
-from San Francisco, CA
-Through a career that spanned five full-length releases with his band Fat Opie, a struggle with a long-term illness and a career as a fine artist, Scott Mickelson has persevered. Now, with his debut solo release Mickelson Flickering, he delivers his most critically acclaimed work. Mickelson is singing the stories of those living their lives in contemporary America, as fragmented as it is. Flickering is on the 2015 Grammy Ballot in two categories, "Best Folk Album" and "Best Roots Music Performance".

Appearances include NPR Radio, Jimmy Lloyd Show (NBC), Huffington Post, CBS Morning Show, Glide Magazine, PopMatters, TheBayBridged, MusicNewsNashville and a Folk Alliance Showcase. Other accolades include winning a national band search sponsored by MTV/7-Up with a prize of $15,000 and a song in the feature film Along The Way. When not touring, Mickelson produces artists from his Bay Area studio.

Mickelson has opened for acts that include Dr. John, Smashmouth, Box Set, Jonathan Richman, Peter Case and Grammy Winner Rob Hotchkiss.