Tuesday
August 16
2016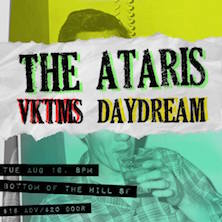 8:00PM

doors -- music at 8:30PM

•••

ALL AGES




$

18

in advance

/ $20

at the door


The Ataris
www.facebook.com/theataris


punk-pop


VKTMS
www.facebook.com/pages/VKTMS/532392423437889


Punk


Daydream
www.daydreamca.com/


punk
---

The Ataris
Kristopher Roe
Bryan Nelson
Thomas Holst
Nick Turner
-from Anderson, IN
-Honest rock n' roll, played loud, recorded to analog tape. Founded in 1996.
Twenty years later still going strong, traveling the world doing what we love. On our own terms.
Download exclusive new music here on our Bandcamp page.
Add our Facebook, Twitter and Instagram for tour dates and other updates!




VKTMS
Lou Gwerder, Steve Ricablanca, John Binkov, Sophie Vogel, and Terry Morris. Plus in memory and spirit Nyna Crawford.
-from San Francisco, CA
-VKTMS got together in 1978 when Mohammed Obead introduced Louis Gwerder (drums) to Jay Davis (guitar). After rehearsing for a while with various people and using a different name they added George Ritter (bass) and began searching for a singer. Nyna Crawford answered a bulletin board ad placed at Aquarius Records. Her intense energy (she cracked a solid concrete floor) and already developed lyric skills impressed them immediately. The band began gigging and shortly after put out what has become to be called the "Midget" EP , a fairly collectible 4 song record including My Baby's a Midget which has been often covered and unfortunately bootlegged.
Few bands played the Mabuhay Gardens more times and VKTMS played every single other club in town and in the Bay Area. Playing gigs with the Dead Kennedys, DOA, Flipper, Mutants, and so forth at the legendary Mab, around the San Francisco Bay area, and up and down the coast helped establish the VKTMS sound and style. Shows with the Ramones, Johnny Thunders and other godfathers toughened the music even more. VKTMS also became the ritual sacrificial offering for many touring acts (Stranglers, Roky Erikson, 999, Killing Joke, Wall of Voodoo, Bush Tetras, Fear, Psychedelic Furs, Delta 5, and many others) when they came through town. Of course, there were many, many shows with friends and peers such as the Dead Kennedys, The Nuns, DOA, Crime, SVT, Romeo Void, Agent Orange, TSOL, No Alternative and so many others.




Daydream


-from Oakland, CA




-"A friend of ours once said that when we get tired of playing old songs, we just start a new band. I had to laugh because it's the truth." Daydream may be a new band, but Kyle Martin, Scott Goodrich, and Travis Pacheco have been playing music together for the past decade. After the ending of past bands, some time apart, and an almost fatal illness, they began putting together their open letter to the past few years – a small collection of songs detailing self realization, change, and loss. Adding four of the most personal songs to their history of songs written together, "Promise You" is just a small introduction of things to come.