Thursday
August 18
2016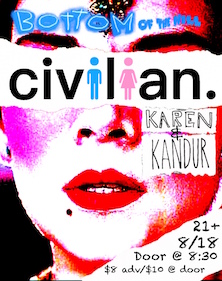 8:30PM

doors -- music at 9:00PM

•••

21 AND OVER




$

8

in advance

/ $10

at the door


Civilian
www.facebook.com/civilianrockband


Rock


Kandur
(first single release
"Did You Ever" from upcoming EP "Fantasy")
www.kandurmusic.com/


Rock


Karen
www.facebook.com/karenarockband/?fref=nf


alternative punk rock pop
---

Civilian
Ryan Alexander, Dan Diaz
-from Oakland, CA
-Born and raised in West Oakland, in an old tire factory. Civilian is 2 parts Scene of Action and 1 part Kid Laser and the Dynamite Deal. Recently the band recorded a 3 song EP (The Cigarette Demos). It was done mostly live, mostly. The band likes catchy vocal melodies and loud instruments. Think Kings of Leon crossed with Alkaline Trio, with a dash of The Libertines.





Kandur


-from San Francisco, CA


-When the political climate in his home of Istanbul started to take drastic turns for the worse, Ilker Kandur decided to relocate himself to one of the western world's most historically progressive locales, and the home of many of his musical influences, San Francisco.

Teaming up with Berkeley's legendary Fantasy Studios to handle production duties, Kandur was partnered with Dawn Richardson (4 Non Blondes, Tracy Chapman) on the drums and the pair immediately bonded over classic rock influences. The resulting EP, aptly titled Fantasy, features four heavy-hitting-yet-melodic alternative rock tracks that offer new life to a genre that hasn't revisited its 80's roots too much in recent years.

Lead single and opening track, Did You Ever, is based around a swampy two-chord blues riff whose charm lies in its simplicity. Featuring a rich and driving chorus, the recent immigrant shows no signs of culture shock as he proclaims to "elevate" the listener as the colorful Californian sunsets did to him upon arrival in his new city.




Karen
Erica Ann Watson - Bass, Vocals
Jessica Groopman - Drums
Logan Kelley - Guitar
Nick Thacker - Guitar, Vocals
-from Oakland, CA
-Karen is a new rock group from Oakland that is surely more than the sum of its parts. For posterity, parts are listed below.

Nick Thacker, words and guitar, is a Cancer and an Anarchist, he thinks, and holds firm on at least two beliefs: (1) most people should be more upset, and (2) Morrissey's 1991 LP 'Kill Uncle' is criminally underrated. He doesn't mind if you forget him.

Erica Ann Watson, bass player and band life-coach, in her own words: "I am a Scorpio from Athens, G-A and I like to find the essence from within."

Logan Kelley, guitar, cut his teeth playing surf grunge and battling clones and walking bones in LA. He hopes to one day use his guitar as a love-shooting peace wand in the impending encounter with extraterrestrials.

Jessica Groopman, resident drummer, provides Karen's gooey grooves, sensual syncopation, yoga pants, emojis, and occasional robotic insights.