Friday
August 26
2016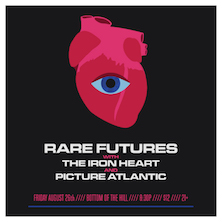 8:30PM

doors -- music at 9:30PM

•••

21 AND OVER




$

12


Rare Futures
formerly

Happy Body Slow Brain




(Album release)


rarefutures.bandcamp.com/


groove rock


The Iron Heart
www.theironheartband.com/


Hard rock, Blues, Post-grunge


Picture Atlantic
www.facebook.com/PictureAtlantic/


alternative rock
---

Rare Futures
formerly

Happy Body Slow Brain


Matt Fazzi - Vox / Guitar / Keys // Jason Holthouser - Bass //
Javier Torres - Drums // Rich Bozek - Drums / Guitars / Vox
-from New York, NY
-RARE FUTURES (formerly known as Happy Body Slow Brain) is a GrooveRock band from New York City that features Bay Area native and Ex-Taking Back Sunday / Atlas Genius / Facing New York multi-instrumentalist, Matt Fazzi. The band meshes heavy prog groove with 80's synthesizers and rich melody, giving nods to groups like Soundgarden, Tears For Fears, and Sade. Their new album "This Is Your Brain On Love" was independently released 3.25.16
.




The Iron Heart
Justin Altamura, Thomas Fine & Joel Fennie
-from Napa, CA
-The Iron Heart is a hard hitting rock band from California. Formed in 2013 by Thomas Fine, Justin Altamura and Joel Fennie. The trio has always played music together through the years, and have now re-formed to create The Iron Heart.

With an energetic rhythm section and soaring guitars, The Iron Heart delivers a signature sound that has been described as "the new rock n roll". Thomas Fine's unique vocal style offers up honesty and passion. Justin Altamura's definitive bass sound gives the extra spice and also delivers world-rocking riffs. On the drums, Joel Fennie, unleashes a thunderous approach which gives the band a big, bold sound. Together they have created a sound that blends traditional hard rock with blues & punk influence




Picture Atlantic
Nikolaus Bartunek / Ryan Blair /
Daniel Martinez / Live Keys: Symeon Tzvetkov
-from Santa Clara, CA
-Picture Atlantic, the ever-evolving alternative rock band from Santa Clara, CA are now recording their third album with ambitions to transcend their cult status in the Bay Area and reach audiences nationally and beyond.

For the band, this means writing and recording on a level beyond what is possible of a local act. "We have to create an album worthy of listeners' ears and deliver on what we ourselves would expect from a live show," they explain.

With this new music, Vocalist/guitarist Nik Bartunek, bass guitarist Ryan Blair, and drummer Daniel Martinez are "more musically cohesive than ever before," now playing to each others' strengths as much as their own.

The band's catalog is defined by Bartunek's striking vocal style and range combined with the musical and rhythmic backbone of Blair and Martinez, the creative counterpoint to the haunting vocal melodies.

While the band once saw that not being similar enough to other groups secluded them from larger audiences, they now embrace the idea. "Our 'sound' is that we don't just have one type of sound."

Since their debut album, Kleos (2008), the band have cultivated a passionate and devoted local fan base, becoming a staple of the Bay Area music scene. They have performed alongside Coldplay, The English Beat, STYX, Say Anything, Eisley, and Dan Black among many others.

The band describes the new material as "darker, but also more hopeful" and "heavier" than their previous album, Digital Tension (2012) - which The Owl Mag called, "an exquisite mix of thrilling, boppy synth highs and dark, heavy bass lows."

As to why audiences should care, the band prefers the direct approach. "We know you'll love our music. We just need to make sure you hear it."