Saturday
August 27
2016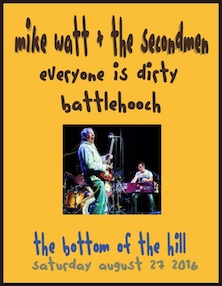 8:30PM

doors -- music at 9:00PM

•••

21 AND OVER




$

15


mike watt + the secondmen
www.hootpage.com/


punk rock


Everyone Is Dirty
www.everyoneisdirty.com/


. art-rock grunge post-punk psychedelic..


Battlehooch
www..facebook.com/battlehooch/


.Psychedelic Rock..
---

mike watt + the secondmen
mike watt and the original secondmen:
pete mazich and jerry trebotic
-from San Pedro, CA
-"What can be romantic to Mike Watt?"
This question is from the song "One Reporter's Opinion." It first appeared on "Double Nickels on the Dime," the Minutemen's acclaimed 1984, 45-track, two record release; often named among the best and most influential albums of the 1980's. At the time of the song's recording, this query may have seemed rhetorical, as the band was an integral part of Los Angeles's explosive early punk and hardcore scene. By 1984, The Minutemen - - Mike Watt on bass, guitarist D Boon and drummer George Hurley - - had already earned a reputation for fierce, rapid-fire performances. Their songs were abrupt gusts of genre-bending music, with concise, satirical lyrics that probed and skewered topics like Reagan era politics and commercial popular culture.

Yet nearly 30 years later, this question continues to haunt Watt, although it's long been freed of any presumed irony. In the intervening years, it has become increasingly evident that much of this bass player, songwriter and "spieler's" life is in fact very romantic to Mike Watt.

His passions are observable in everything. It's heard in Watt's musical signature - an extraordinarily lyrical bass playing style - a singular sound that leaps from any of his many recordings. It's visible in his mystical veneration of the natural world, revealed by equally allusive photos of seagulls, sea lions and sunrises taken during his daily "crack of dawn" biking and kayaking excursions in San Pedro, California, his beloved hometown. (Some of these exquisite images were the subject of a 2010 solo exhibition, "Eye-Gifts From Pedro" at the Track 16 Gallery in Santa Monica, CA., and are part of his book, "On and Off Bass," Three Rooms Press, 2012). His romance extends to the ordinary, too, observable in the way he describes his state of mind, meals, gigs, friends and daily activities in his compulsively detailed tour diaries available on-line since 1997 (before the term "blog" was coined), on his self-built and meticulously maintained website: hootpage.com, which he launched in 1996.

Watt is a cultural omnivore. Especially over the last decade, his openness (and eagerness) to devour new musical experience has become increasingly audible (and visible) in the dozens of projects and live performances he's participated in with artists as divergent as Yoko Ono, Black Moth Super Rainbow, Petra Haden and Kelly Clarkson.

With the songwriting and recording process freed from terra firma through digital technology and internet file sharing, Watt's been able to contribute bass to recordings by friends and fans from all over the world, who have contacted him through email and social media. He's also sought the partnership of musicians he's encountered on his own: through his (since 2001) web-based radio series "The Watt from Pedro Show," or met on tour, particularly since 2003 when he began playing bass with the perpetually globetrotting Iggy and the Stooges.




Everyone Is Dirty
Sivan Lioncub, Christopher Daddio
Tony Sales, Tyler English
-from Oakland, CA
-Oakland CA's Everyone Is Dirty just released their new cassingle "Banana Split" on Royal Oakie Records to much acclaim. The title track premiered on Brooklyn Vegan, and the B-side "Wax Mannequin Mode" premiered on Impose. The hard-hitting foursome are going on a national tour this October, and have a new full length set to release this winter.

"Oh yes. Oh yes. Oh yes. Any words I try to use here would fail to encapsulate just how deliriously wicked this is. The spiky riffs, the smeared chorus, the unchained glee behind dubious drug-taking…I'm obliged to call this "punk", but violins assault me with their pointed bows, and there's far more to Everyone is Dirty than the "punk" moniker can offer. Also, "punks" do not seduce me like this. Mmm. It's times like this that I question my sexuality." --Collapseboard.com

'Banana Split' Premiere on Brooklyn Vegan: brooklynvegan.com/oaklands-everyone-is-dirty-releasing-snarling-new-single-banana-split-listen/

"Wax Mannequin Mode" Premiere on Impose Magazine






Battlehooch
AJ McKinley: Guitar, Ben Juodvalkis: Synth
Grant Goodrich: Bass, Pat Smith: The Voice
Ryan Huber: Drums, Tom Hurlbut: Winds
-from San Francisco, CA
-San Francisco's Battlehooch defies the calculus of sound. By cross-pollinating elements of psychedelia with modern pop, the six-piece has given birth to a mutant strain of kaleidoscopic rock & roll. Hot on the heels of 2014's mind melting "Wink" EP comes their new digital single "Type One Error/Grace of Lace". Like "Wink", the "Type/Grace" single finds Battlehooch delving deeper into their exploration of the vivid sounds and sumptuous textures of classic psych-pop, while also incorporating more explicitly dance-centric rhythms and electronic textures into the mix. Critics have called the single "a perfect representation of the unorthodox and diverse sound that Battlehooch has built… the song compiles all the facets that make this band unforgettable". Battlehooch will be touring in support of these new releases throughout 2015.

Previously the band has held opening slots for Of Montreal, Yacht, Crystal Castles, The Danielson Family, Ponytail, Nomo, Gza (from Wu-tang Clan,) and Cherub. They have also had their track featured in a national TV ad for Go Pro Cameras that showed during the Olympics and Monday night Football.