Wednesday
August 31
2016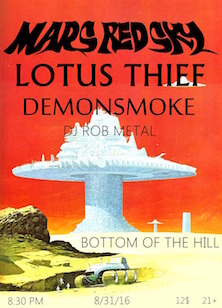 8:30PM

doors -- music at 9:00PM

•••

21 AND OVER




$

12


MARS RED SKY
marsredsky.bandcamp.com/


psychedelic doom stoner rock


Lotus Thief
lotusthief.com/


ambient electronic metal post-rock psychedelic space rock.


DEMONSMOKE
www.facebook.com/demonsmokeband


Sludge Stoner Doom Metal


DJ Rob Metal
dothebay.com/artists/dj-rob-metal


metal DJ
---

MARS RED SKY
Julien Pras (vocals, guitar) Jimmy Kinast (bass, vocals) Matgaz (drums)
-from Bordeaux - France
-Driven by the huge success of their eponymous debut record, which was recorded in Spain's mystic Bardenas desert and released in 2011
the Bordelais were quickly invited to play on the largest European stages with Kyuss Lives!, Dinosaur Jr, Sleep, and renowned festivals such as Eurockéennes de Belfort (Fr) Hellfest (Fr), Roadburn (NL), London and Berlin Desertfests, Sziget Festival (Hun), SXSW (USA) and many more , leading them to play 300 shows in the next 5 years, opening for various acts such as SLEEP, French major band DETROIT, DINOSAUR JR or KILLING JOKE.

Bordeaux - France 's MARS RED SKY 's second album 'Stranded in Arcadia' described a journey in a sapphire vessel to an imaginary place called 'Arcadia'. Masters in cultivating fuzzy, distorted massive sounding heaviness contrasted with ethereal high range melodic vocals, MARS RED SKY have become much of an intriguing curiosity over the recent years as Classic Rock (UK) illustrated as "Between doom rock and sky - scraping 70s psyche pop, with utter abandon (….) A record that will put hair on your feet !" .

Worldwide press has been roaring usually pointing out the band's "Charisma and consistency in quality song writing and execution" as in THE SLEEPING SHAMAN webzine described. Also as THE OBELISK passionately wrote "One of the best and most distinct acts in or out of heavy psychedelia " or as ABOUT.COM confirmed : "A fantastic voyage!".

MARS RED SKY's brand new album 'Apex III – Praise for the Burning Soul' pushes boundaries further into a colossal heavy sound - Produced by Gabriel Zander (from Brasil who also engineered 'Stranded in Arcadia') and Jacob Dennis in Studio Cryogene in Bègles in France - The band has forged grandiose and hypnotizing thickly produced songs rooted through a wider range of musical influences stretching from Robert Wyatt, The Beatles, Nick Drake, Neil young to bands like Electric Wizard, Acid King and obviously Black Sabbath.




Lotus Thief


-from San Francisco, CA


-"As the unrelenting grip of stupidity tightens around America's most hallowed institutions - churches, schools, legislatures and the like - it's hard not to notice that metal and its affinities just fucking keep getting smarter. Consider Lotus Thief's Rervm - a beautifully crafted adaptation of Titus Lucretius Carus' epic philisophical poem (and groundbreaking work of natural philosophy)."
- Rod Smith, Decibel Magazine

"The music drives with power, but it's driving the space lanes rather than any earthbound highway — a course that become unmistakably clear with three minutes left, when the pistons stop and the song glides like a satellite in orbit, a cosmic dream unfolding."
- No Clean Singing

"This is a fantastic album in the true spirit of the San Francisco music scene – left of centre, forward thinking and inspired – well worth forking out your money to hear this in its glory. Certainly an auspicious start to this fledgling band's career."
- Cvlt Nation




DEMONSMOKE
Vinny - Guitar, Boug - Bass, Mitch - Drums, Cam - Vokills
-from Antioch, CA


-Riff 'N' Spliff peddlers from the slums of the delta.






DJ Rob Metal
DJ Rob Metal
-from San Francisco, CA


-Rob Metal knows his stuff. He knows the difference between black metal, death metal, black thrash, kult black metal, technical death metal, and poser hipster metal. He's the go-to DJ for many of San Francisco's punk and metal promoters to take the decks between live band sets at places like Thee Parkside, Annie's, and the DNA.