Saturday
September 3
2016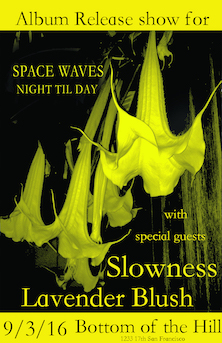 8:30PM

doors -- music at 9:30PM

•••

21 AND OVER




$

10


Space Waves


(album release)


www.facebook.com/SpaceWaves/info/


existential psych-gaze-dream-surf-space rock


Slowness
www.facebook.com/slownessmusic


drone pop shoegaze


Lavender Blush
www.facebook.com/lavenderblushSF/


dream pop indie psychedelic shoegaze
---

Space Waves
Kelley Bourland, Sarah Duni Bourland, Brandon Werts
-from Long Beach, CA


-existential psych-gaze-dream-surf-space rock.






Slowness
Julie Lynn, Geoffrey Scott, Scott Putnam, Greg Dubrow. Revolving members
and co-contributors: Erik Karl, Ryan Hoguet, Christopher Shane, Christy Davis,
Dave Voigt, and Sean Eden.
-from San Francisco, CA


-Here's an incredibly ethereal band that is not shoegaze at all--just a sympathetic cousin...one of the great undiscovereds in contemporary moody effects-driven rock...they use a steady, understated, anchor beat, loping, limber basslines, and then, momentously, spiderweb guitar parts that circle, tickle, chime, ring, and repeat, looping into peacefully mesmeric riffs. Thus, they have more in common with not only For Against, but The Feelies, Murmur R.E.M., the 'Beginning to See the Light' Velvets, Chills, and '80s Brit postpunk than dreampop—even if the effect is as dreamy, beautiful, and greatly affecting. - Jack Rabid, THE BIG TAKEOVER.






Lavender Blush
alvin fenner, sam hewatt, chris howard, ryan lescure
-from San Francisco, CA


-Noisy dream pop. Lavender Blush is a new project from the members of SF-based band, Moonbeams.