Sunday
September 4
2016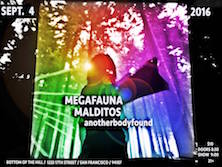 8:30PM

doors -- music at 9:00PM

•••

21 AND OVER




$

10


Megafauna
www.megafaunamusic.com/


Rock, Prog, Grunge, Experimental


Malditos
www.facebook.com//malditosseance/


dark psychedelia


anotherbodyfound
www.facebook.com/anotherbodyfound-305426912808054/


Progressive Grunge
---

Megafauna
Dani Neff - vocals and guitar, Zack Humphrey - drums, Will Krause- bass
-from Austin, TX
-We are a power trio from Austin, Texas. We melt faces.
" Megafauna takes it out there while rocking your face and sometimes, just sometimes, makes you tear up inside and proclaim YES. YES."
"Where have all the riffs gone in indie rock? Why is everyone slathering twinkly synths on everything? Maybe it's because Austin's Megafauna have stolen all the gnarly riffs in the world and slammed them together with singer/guitarist Dani Neff's off-kilter vocals, delivered together with a raw punk energy to create 3 minutes of taut, muscular, yet zingly melodic rock. - NOISEY"




Malditos
Skot B, Cyn M, R. Szell, Andy Z
-from Oakland, CA
-Oakland, Ca., Malditos is a quartet embarked on a concept of sound they refer to as "dark-zone desert psych", featuring pulsating rhythms, melodic vocal phrasings, sonic guitar passages and heavy atmospheric textures conjured via analog synthesizers, tapes and percussion.

Formed in late 2011 for a performance in the Dismal Swamp, the group recorded material for a full length S/T album which was released on the band's own Alchemy Coffin label in 2012. These songs feature lyrics in French and English as well as a cover of Serge Gainsbourg's classic composition, "Requiem Pour Un Con", which ends up running the gamut at over eight minutes in length, sounding more like Faust processing Gainsbourg than its funky predecessor.

Two digital releases followed, Ruins/Black Shirt Flag (slated for release as a seven-inch single) and Suivez Nous, the digital single to the cassette release, Suivez Nous Vol. 1.

Mixing the scenes in support of friends and bands such as Alaric, Indian Jewelry, Thomas Dimuzio and Pere Ubu, Malditos performs almost as sporadically as their recorded output, though the members remain active in many forms throughout the Bay Area.




anotherbodyfound
Alejandro - Vocals, Tony - Guitar
Jake - Drums, Shane - Bass, J - Keys
-from San Francisco, CA


-anotherbodyfound is a four piece progressive grunge band that hails from San Francisco's Tenderloin District.