Tuesday
September 13
2016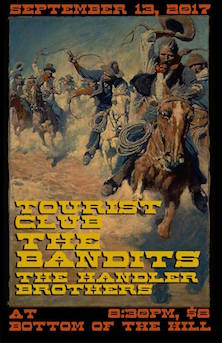 8:30PM

doors -- music at 9:00PM
•••
21 AND OVER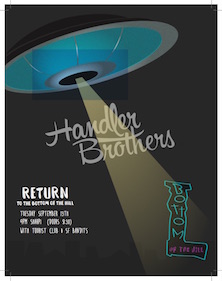 $

8


Tourist Club
www.facebook.com/Tourist-Club-472074969649992/


folk rock


The Bandits
www.facebook.com/thebanditsSF/


blues-edged rock n' roll


The Handler Brothers
www.facebook.com/HandlerBrothers/


weeping rock and folk
---

Tourist Club
Rachael Phillips, Jeremy Vandehey, Scott Harvey
-from San Francisco, CA


-Tourist Club is a 3 piece americana band based in San Francisco that draws inspiration from its members' unique Californian, Tennesseean, and Wisconsin musical upbringings. With simple harmonies and blends of bluegrass, folk, and country, Tourist Club offers everyone a unique mix of guitar, mandolin, bass, and fiddle.






The Bandits
Howie Diamond, Spence Koehler, Connor O'Sullivan, Fred Torphy
-from San Francisco, CA
-The Bandits are a new band, led by The Stone Foxes' Spence Koehler and Big Light frontman Fred Torphy. Pulling songs from a wide array of country & western music, from the past, present and future, The Bandits are at heart a rock n' roll party band. In addition to the familiar blues-edged guitar he is known for via the Stone Foxes, Koehler also uses the Bandits as an outlet for his pedal steel talents. Torphy's brings his lo-fi/garage aesthetic to the table, subverting the band's country-leaning setlist with a healthy dose of punk rock. The rhythm section is manned by Howie Diamond of Low vs. Diamond on drums and Connor O'Sullivan of Midnight North on electric and standup bass.

Expect anything from a modern reading of a Mississippi John Hurt classic, or a hyper-rocked out Gillian Welch cover. Simpatico with bands like The Hard Working Americans and The Chris Robinson Brotherhood, anything in the American songbook is fair game for the Bandits.




The Handler Brothers
david handler, john pike, david sanner, steve lafollette
-from San Francisco, CA


-We are a rock trio comprised of members David Handler, John Pike, and David Sanner. We play and sing original songs. We are available to play your intimate gathering, or large festival.