Saturday
September 17
2016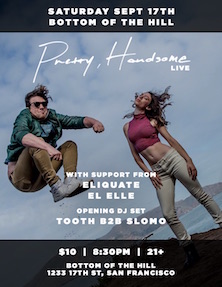 8:30PM

doors -- music at 10:00PM

•••

21 AND OVER




$10


Pretty, Handsome
www.facebook.com/prettyhandsomesf


rnb/indie/house power pop


Eliquate
www.facebook.com/eliquate/


Indie/Hip-Hop


El Elle
Lisa from

The Lovemakers


cargocollective.com/elelle
experimental pop/ new age dance party
DJ Tooth
www.facebook.com/toothdj
DJ

---

Pretty, Handsome
Stephen Ryan Tucker, Sierra Totten
-from San Francisco, CA


-Producer Stephen Tucker (Tucker) and vocalist Sierra Totten made pop duo Pretty, Handsome winter of 2015. The result is catchy, danceable beats mixed with powerful, emotive vocals. The pair are best friends which is apparent when you see their effortless chemistry during their very energetic live shows. Having very different musical backrounds, the two have created a unique style that they like to think appeals to a wide range of people and tastes.





Eliquate
-from Santa Cruz, CA
-"If all we have are dreams, then dream big," spits Elliot Wright, frontman and philosopher for the five-piece, California Beat Rock troubadours, Eliquate, on their latest EP, Who The F*ck is Eliquate? Packing an arsenal of rhymes that range from satirical social commentary and inner-soul searching to all-out, shake-your-ass-'til-the floor-is-wet jams, Eliquate's music has been charging parties up and down the West Coast since 2009. In that time span, they've graced the stage with underground royalty such as Murs, Del the Funky Homosapien, Zion-I and RJD2 just to name a few.

Drawing influence from all musical styles, the creative quintet build an energetic, live performance that is second to none. On any given night, Eliquate will break from convention and bust into an improvised jam with Wright free-styling on the mic to every audience's amusement. That's where Eliquate's real power lies: they'll hook anyone on the dance floor with their passionate melodies and create fans with their ingenuity and insightful lyrics.

So, who the f*ck is Eliquate? Well, now you know. They are a powerful mix of music and message currently rocking down doors on their Northwest Tour. But the final question remains: what does the future hold for our gang of intellectual deviants? Two words: dream big..




El Elle
Lisa Light
-from Oakland, CA
-El Elle is the solo project of Lisa Light, the frontwoman of Bay Area cult electro pop favorites, The Lovemakers. For this project, she calls in a broad arsenal of influences such as modern dance, performance art, classical violin, noise, punk, and electronic music for an ever-morphing live experience. Joining El Elle for this performance will be dancer/choreographer Isabelle Sjahsam and dancer Kate Harrison.




DJ Tooth
Mike
-from Sacramento, CA


-I'm not a DJ, I'm a tastemaker. House, Techno, Minimal, Psy, Disco, Erotica...