Wednesday
October 5
2016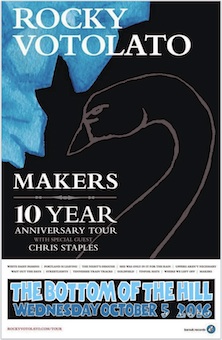 8:30PM

doors -- music at 9:00PM

•••

ALL AGES




$

13

in advance

/ $15

at the door




Makers - 10 Year Anniversary Tour


Rocky Votolato


with full band




folk - indie singer-songwriter




with special guest:


www.rockyvotolato.com/
Chris Staples
www.chrisstaplesmusic.com/


singer and songwriter
---

Rocky Votolato
Rocky Votolato
-from Seattle, WA
-Seattle's Rocky Votolato has been relentlessly on tour over the last two decades, as a compelling Singer Songwriter, or with his former cult-punkband Waxwing. Ten years after his critically acclaimed album "Makers" and its evergreen "White Daisy Passing", Votolato is still connecting with and captivating audiences all over the world, and is releasing a new EP in 2016 called "Sawdust and Shavings".

A follow up to his latest album "Hospital Handshakes", produced by Chris Walla (Ex-Death Cab for Cutie), the new effort showcases stripped down, intimate versions of songs from his last full-length, as well as several previously unreleased tracks and a feature by Emily Kokal of Warpaint. A new video for the dark and hauntingly beautiful title-track "Sawdust and Shavings" has been made by the filmmaker and Wim Wenders' director-assistant Luca Lucchesi. -




Chris Staples
Chris Staples and band
-from Seattle, WA
-There are no casual Chris Staples fans. The man inspires devotion. The turnaround from casual listener to evangelist is nearly instantaneous. Play his music during a road trip with friends and inevitably someone will ask, "Who is this?" And a lifelong fan is born. Such is the unaffected power of these songs, of this voice. Chris Staples fandom is rewarding and lasting (despite his understated approach to promoting his own work, which - as it should be with all artists - seems secondary to the effort he puts into the making of it). We follow where he leads, and our numbers are growing.

American Soft is a bicoastal record, written partly in Washington State, the hardworking timberland home to grizzled locals and Midwestern expatriates, and also in Florida, the wild and weird American outland known as much for strange crime and cutting-edge nightclubs as for family theme parks and extravagant retirement communities. Staples wrote portions of American Soft while squatting in his abandoned childhood home, a Pensacola bungalow empty save for an old piano. "I slept on a Coleman cot for two months. The yard was overgrown up to my waist," Staples remembers. "The neighbor lady across the street used to babysit me. I ran into her one day and she didn't even recognize me. I hadn't seen her in 15 years."

American Soft's musical ideas are at once diverse and cohesive, the lyrics both direct and lushly impressionistic. The sunny "Black Tornado," built around a spritely ukulele strummed to a looped handclap-and-kickdrum beat, stands as the record's poppiest track even as the foreboding cyclone shows up in the chorus. Upon first listen, the soft and sublime "Dark Side of the Moon" plays as a simple and strong declaration of a desire to love. On that level it works beautifully and completely satisfies. However, the title suggests something more, some deeper connection to the classic album with which it's shared. Indeed, Staples' gorgeous "Dark Side of the Moon" is more than the sweet, gentle love song it seems on first listen; it is a dream of a dream of a dream.