Thursday
October 13
2016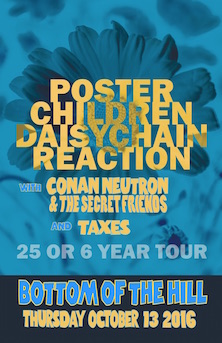 8:30PM

doors -- music at 9:00PM

•••

21 AND OVER




$

16

in advance

/ $18

at the door


Poster Children
posterchildren.com/


Alternative indie rock, Punk rock, Post-hardcore


Conan Neutron & The Secret Friends
www.neutronfriends.com/


Alternative rock, Post-punk


Taxes
posterchildren.com/


Rock
---

Poster Children
Rick Valentin (guitar, vocals),
Rose Marshack (bass, vocals),
Jim Valentin (guitar),
Matt Friscia (drums)
-from Champaign, IL


-Poster Children is an American indie rock band formed at the University of Illinois at Champaign-Urbana in 1987. They have issued eleven studio albums. Known for their strong DIY ethic, the band members continue to drive their own tour bus, create their own artwork and T-shirt designs, and operate their own record label. Poster Children were also pioneers in several forms of electronic technology relating to performance art, including enhanced CDs, webcasts, and blogs.






Conan Neutron & The Secret Friends
Conan Neutron, Tony Ash, Dale Crover
-from Oakland, CA - Louisville, KY - Los Angeles, CA,
-Conan Neutron is a guy, Conan Neutron & the Secret Friends is a band. It is a band featuring Dale Crover of the mighty Melvins on drums, Tony Ash of Trophy Wives, Dead Halos and Coliseum on bass and the production skills of the iconoclastic and enigmatic Toshi Kasai. The Secret Friends bring forth a wiry and adventurous rock 'n roll that is equal parts Cheap Trick, fugazi, the Cars, Black Sabbath and DEVO with perhaps Mean Streets era Van Halen mixed in. Big rock, heavy, hooky, a little strange. You get it. Neutron, a rock 'n roll lifer has spent the last 16 years making records and touring in such bands as Replicator, Victory and Associates and Mount Vicious, making uncompromising, sometimes challenging and daring rock music to anybody that is interested.





Taxes
Robby Cronholm, Josh White, Amir Djavaherian
Brad Harbidge, Aishlin Harrison, JD Wilson
-from San Francisco, CA
San Francisco native Robby Cronholm is the songwriter and lead singer of Taxes. His past efforts include singing/songwriting in seminal 90s indie rock band crumb and a brief career in advertising.

Some bios are ironic and filled with lies. This one is not.
Robby Cronholm has tried and, for the most part, loved the following forms of therapy:

Hypnotherapy. Equine therapy. EST. Release technique.
Aqua therapy. Raiki. Kundalini. Past-Life Regression.
Sand Box Therapy. Art Therapy. Transcendental Meditation. Jungian.
Freudian. Psychoanalytical. Acupuncture. Singing Bowls.
Etc.

It Never Ends was written and performed by Robby Cronholm and Taxes. It was engineered and produced by Ryan Williams, with mixing and additional production by Danny Seim of Menomena.

Robby Cronholm sings and plays guitar. Amir Djavaherian plays bass. Brad Harbidge plays drums. Aishlin Harrison sings. JD Wilson plays keys.