Saturday
October 22
2016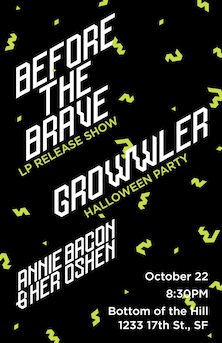 8:30PM

doors -- music at 9:00PM

•••

21 AND OVER




$12


Before The Brave


(album release)


beforethebrave.bandcamp.com/


folk alt-country rock


Growwler
growwler.bandcamp.com


experimental indie art rock power pop


Annie Bacon And Her OSHEN


(singles release

)
www.anniebacon.me/


Rock / Folk Rock / Sweet Rock.
---

Before The Brave
Jason Stevens - Acoustic Guitar, Vocals Kyle Redmond Teese - Drums
Beth Garber - Vocals, Keys Ryan Devisser- Electric Guitar Miguel Castuera - Bass
-from San Francisco, CA


-Before the Brave emerged from the San Francisco music scene in 2012 with unexpected acclaim behind their first release "Great Spirit." Over the next few years the collective left behind their folk roots for a more ambitious sound that draws on the likes of classics Fleetwood Mac as well as contemporaries like The Head and the Heart. Their forthcoming LP "Better Country" is due fall of 2016






Growwler
Davis, PW, gibby, Kazmo
-from San Francisco, CA


"They fuzzed, hand-clapped & hooked on an original sound; tighter than hipster jeans, but with more of an effortless ...-






Annie Bacon And Her OSHEN
(Singles release)
Annie Bacon, Omar Cuellar (Facing New York, Adam Stephens), Tal Ariel, Jeremy Mulder, Meryl Press (Bob Saggeth, Marc & the Casuals) and Miles Gordon.
-from San Francisco, CA
-San Francisco-based Annie Bacon wants you to feel. Something. Anything. To that end, she creates lush, emotionally-driven folk rock bursting with an honest, earnest energy that easily convinces you to lash your heartstrings to her dock. Comparisons include Stevie Nicks, Ingrid Michaelson, and Neko Case, and these talents have clearly lent inspiration as well.

After cutting her teeth in the SF scene as bassist for the renegade country/rock band Sweet Crude Bill, a band steeped in its own oil-soaked mythology, Annie stepped out on her own. She's as much a storyteller as a musician – some stories retelling the past as she wished it had happened, some dropped in her lap by strangers who have always found in Annie a curious and empathic listener. The songs are at once poetic and melodic, with a rock-steady backing band (her OSHEN) uplifting and punctuating each tune.